Brady, Kaepernick named to Time most influential list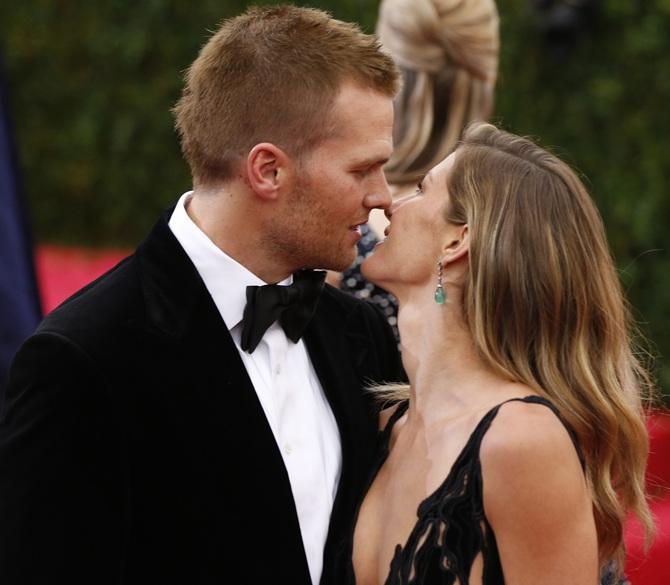 IMAGE: Model Gisele Bundchen and her husband, NFL football player Tom Brady. Photograph: Lucas Jackson/Reuters
New England Patriots quarterback Tom Brady and Cleveland Cavaliers forward LeBron James were among seven sports figures named to Time Magazine's annual list of the world's most influential people, which was announced Thursday.
Time Magazine's world's most influential people (sports)
Tom Brady (New England Patriots quarterback)
LeBron James (Cleveland Cavaliers forward)
Colin Kaepernick (NFL free-agent quarterback)
Theo Epstei (Chicago Cubs general manager)
Simone Biles (2016 Olympic gold-medal gymnast)
Conor McGregor (UFC light heavyweight champion)
Neymar (Barcelona superstar forward)
While Brady and James have ample championships on their resume, polarizing NFL free-agent quarterback Colin Kaepernick also appeared on the list that included pioneers, artists and leaders.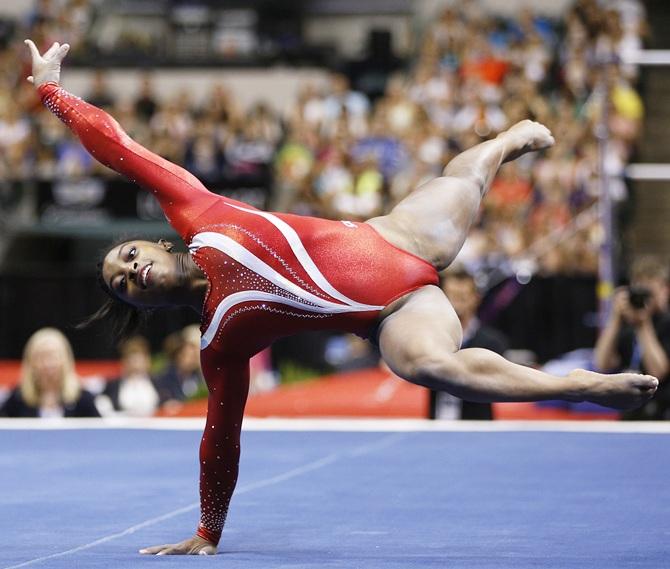 IMAGE: Simone Biles competes. Photograph: Joe Robbins/Getty Images
Chicago Cubs general manager Theo Epstein, 2016 Olympic gold-medal gymnast Simone Biles, UFC light heavyweight champion Conor McGregor and Barcelona superstar forward Neymar were also included on the list.
Brady collected his fifth Super Bowl ring in February after helping the Patriots overcome a 25-point deficit in the third quarter to defeat the Atlanta Falcons in overtime of Super Bowl LI.
"The mic was dropped," talk-show host Conan O'Brien wrote of the victory over the Falcons. "But Tom's real achievement is that he willed himself to be (the best)."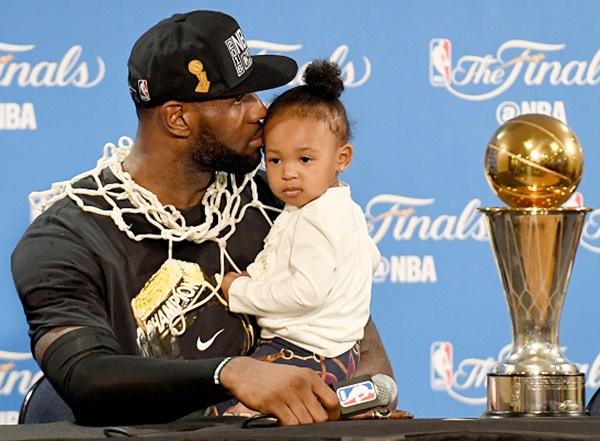 IMAGE: LeBron James of the Cleveland Cavaliers kisses his daughter Zhuri during a press conference after defeating the Golden State Warriors. Photograph: Thearon W. Henderson/Getty Images.
James also was instrumental in helping his team rally from a 3-1 series deficit to upend the Golden State Warriors in the NBA Finals.
"By making good on his pledge to bring a championship to the Cleveland Cavaliers and by investing in the promise of future generations through his foundation, LeBron James has not only bolstered the self-esteem of his native Ohio but also become an inspiration for all Americans -- proof that talent combined with passion, tenacity and decency can reinvent the possible. Poetry in motion, indeed," wrote Rita Dove, a Pulitzer Prize-winning author and former US poet laureate.
Kaepernick's initial refusal to stand for the national anthem as part of his protest for racial injustice led others around the NFL to follow suit.
"I thank Colin, for all he has contributed to the game of football as an outstanding player and trusted teammate," Kaepernick's former coach Jim Harbaugh wrote. "I also applaud Colin for the courage he has demonstrated in exercising his guaranteed right of free speech. His willingness to take a position at personal cost is now part of our American story."