The 30-somethings have enjoyed themselves at the French Open this year and American twins Bob and Mike Bryan continued the trend by winning a record-extending 14th Grand Slam doubles title at Roland Garros on Saturday.
Just a few hours after 31-year-old fellow American Serena Williams hoisted the women's trophy, the Bryans broke French hearts by beating Nicolas Mahut and Michael Llodra 6-4, 4-6, 7-6(4) in an entertaining final.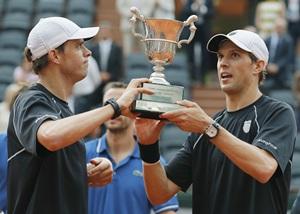 When the 35-year-old identical twins captured the Australian Open title this year, they broke the record of 12 Grand Slams they had shared with Australians John Newcombe and Tony Roche.
Like Williams, who ended an 11-year wait for a second Roland Garros title, the Bryans also endured a long delay before adding to their 2003 success.
"It's great winning slams with your brother. Just we really wanted to win another French. It's been 10 years. This is the first one we won back in the day and kind of launched our career," said Mike, who is now half way towards completing a calendar Grand Slam.
"This is the toughest Slam to win.
"I think 24 Grand Slam finals in 10 years is great. We lost a bunch of them early and we have won a bunch late.
"You never fathom that you're going to hit that many Slams and add a gold (from the Olympics) to it. It's just been kind of a fairytale."
Things have certainly changed for the brothers since their last win at Roland Garros.
"I just remember we were sleeping on the floor at the Pierre et Vacances. We were trying to save a buck staying at the junior hotel," recalled Bob, whose bank balance now boasts $10 million in prize money alone.
"The lights, I remember you walk down the hall and it's all like motion sensors, so it would be dark and it could be light and then be dark behind you. It was just kind of a creepy roach motel.
"Now we have the suite at the Claridge."
Image: Bob Bryan and Mike Bryan of the US hold up their trophy
Photograph: Gonzalo Fuentes/Reuters