Roger Federer and Lleyton Hewitt will resume one of the oldest rivalries in tennis when they contest the Brisbane International final on Sunday.
The 32-year-old duo both needed three sets to secure a 27th encounter after Federer edged Frenchman Jeremy Chardy 6-3, 6-7, 6-3 and Hewitt proved too strong for Japan's Kei Nishikori as he rallied for a 5-7, 6-4, 6-3 win on Saturday.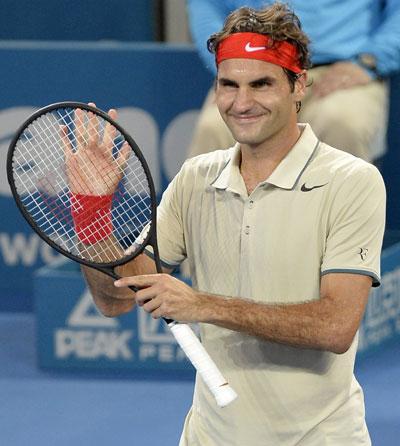 "Obviously, Roger and I have a good history and a lot of tough matches in the past in slams, Davis Cups and everything," Australia's Hewitt told reporters. "I'm going to enjoy it."
They first played in Lyon 15 years ago with Hewitt emerging victorious, as he did in seven of the first nine matches with the last of those coming in a Davis Cup clash in 2003 where he battled back from two sets and 5-2 down to overcome the Swiss.
Federer regards that contest as a landmark moment in his career while Hewitt sees it as one of his greatest wins.
"It has to be one (of my best)," Hewitt said. "In the conditions and over five sets and he was the reigning Wimbledon champion only a couple months before that as well."
Since then, Federer has been dominant with Hewitt's victory in Halle in 2010 his only win in the last 17 contests between them.
The Australian puts his latter struggles in the rivalry down to Federer's brilliance rather than his own shortcomings.
"Nearly everyone had some kind of run against Roger in those years," Hewitt said.
"He lost two or three matches for the year. Apart from losing to Rafa (Nadal) a couple times, he didn't lose too many matches.
"In Halle, I got a little bit lucky but I did play a really good three-set match there."
For his part, Federer is keen to resume a rivalry against an off-court friend he first met when they were 15-year-old juniors.
"We go back 17 years - our coaches back in the day were best friends," Federer said. "It's always special when we play."
The Brisbane tournament acts as a warmup event for the Australian Open, the first grand slam of the season, which starts in Melbourne on Jan. 13.
Li overcomes Peng to defend Shenzhen Open title
Meanwhile, Li Na edged out compatriot Peng Shuai 6-4, 7-5 to defend her Shenzhen Open title on Saturday as the top seed emerged victorious in the second all-Chinese final on the WTA tour.
The 31-year-old Li, Asia's lone grand slam singles champion, overcame a stuttering start before completing her first successful title defence on the women's tour in an hour and 49 minutes.
Trailing 3-4 in a showdown between China's top two players, Li bagged seven of the next eight games to move 6-4, 4-1 ahead before fifth-seeded Peng resisted, winning four in a row to lead 5-4 in the second set.
Former French Open champion Li responded by winning the next three games to claim her eighth WTA title while prolonging Peng's wait for a maiden crown in the sixth singles final of her career.
This was a special victory for Li, who featured in the first all-Chinese WTA final against Zheng Jie in 2006 when she was forced to retire through heat exhaustion at the Estoril Open clay court event in Portugal.
Image: Roger Federer of Switzerland celebrates victory after his semi final match against Jeremy Chardy of France at the Brisbane International.
Photo: Bradley Kanaris/Getty Images