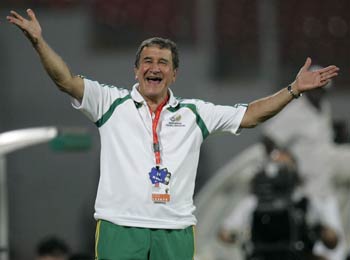 Brazilian Carlos Alberto Parreira has been appointed South Africa coach for the 2010 World Cup finals, resuming a job he left 18 months ago, the country's football association announced.
Parreira is now on course to participate in a record sixth World Cup as coach after being named to succeed compatriot Joel Santana, who was fired, last week after a run of poor results for the World Cup hosts in recent warm-up matches.
The 66-year-old Parreira was first approached in 2006 to build a competitive side for South Africa's hosting of the 2010 World Cup finals but quit after 21 matches in charge in April 2008 when his wife fell ill with cancer.
He returned to Rio de Janeiro to tend to her, recommending Santana in his place.
But Santana had little of the charisma of his compatriot and after 18 months was asked to step down after South Africa lost eight of their last nine matches and looked a listless team some eight months before the start of the World Cup.
TIME CONSTRAINT
"The reason for opting for Parreira so quickly is that we have a massive time constraint with the World Cup just around the corner," South African Football Association (SAFA) president Kirsten Nematandani said.
"I will be honest and say that we knew other South African-born coaches were keen to be appointed. But we simply did not have the time to short-list candidates."
Parreira's return has been criticised by several prominent South African footballing personalities, including former coaches who felt it was time to appoint a local to guide the team at the World Cup finals.
But SAFA said they had already started talking to Parreira abut a possible return before firing Santana.
"It was a job we started three years ago," said Parreira.
"Unfortunately, for family reasons, I had to interrupt it but now they (South Africa) have resumed that project.
"I was only able to accept, and only accepted, because I'm not going to start the job from zero," he told Brazilian TV.
"There's very little time left for the World Cup but the job had already begun, I already know the players, the style, and the work. Without doubt that will help with this resumption," he said.