Bodin Issara was banned for two years by the Badminton Association of Thailand (BAT) for physical assault after his ugly on-court brawl with former doubles partner Maneepong Jongjit during the final of the Canada Open last week.
The BAT also handed Maneepong a three-month ban for provocation after lengthy deliberations on Saturday night in Bangkok. The duo could face further penalties with an investigation by the Badminton World Federation (BWF) still ongoing.
"Everything we have done in 60 years collapsed just because of one person. In my six decades in this sport, I haven't seen a more violent case than this," BAT president Charoen Wattanasin was quoted as saying by Thai media on Sunday.
"I have been requested to be gentle in the measures but this is not about my feelings or others' feelings. It's a matter of the country's image."
The duo, both 22, teamed up for Thailand at the London Olympics and were competing on opposite sides for the first time since their split and tensions blew up in a feisty men's doubles contest which ended with Bodin's disqualification after he chased Maneepong around the arena.
Bodin lost his temper after Maneepong had hit him on the head with his racquet at the change of ends and the crowd were left in shock as Bodin eventually tackled his former partner to the ground on a neighbouring court and rained downed punches before being pulled away.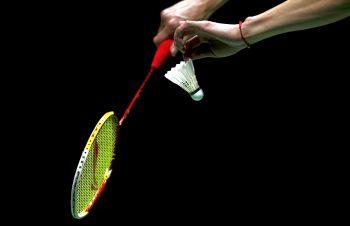 Bodin and Maneepong made a public apology on Saturday, shaking hands and attempting to put the incident behind them after landing back in Bangkok on Wednesday having taken separate flights.
Bodin's remorse meant he avoided a lifetime ban, while Maneepong's regret saw his penalty halved from six months.
Maneepong, however, suggested it would take more than a public show of remorse for the two to become friends again.
"Only if he tells the truth, but if he still tells lies, then no," Maneepong said.
Maneepong said he had also received an apology via email from Bodin, while Thai media said Bodin's wife and mother had also apologised to Maneepong.
"I did not reply (to the email) because I don't know what to say. I forgive him and I will accept the decisions of the BWF and the BAT," said Maneepong.
Bodin said earlier this week he would consider his future in the sport once the BAT and BWF had decided on their punishments.
The BWF have charged both players with inappropriate conduct, oral abuse and unsportsmanlike conduct. Bodin was also charged with physical abuse and conduct contrary to the integrity of the game.
Photograph: Ben Hoskins/Getty Images