Mike Tyson returns to the ring after a 17-month absence on Friday minus his famous entourage and without the respect that once made him the most feared heavyweight fighter in the world.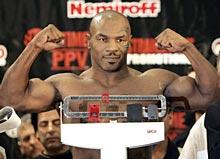 Even Tyson would admit the bout against Briton Danny Williams, billed as "Return for Revenge" by promoters, is more about returning money to his bank account than any kind of revenge at this stage of his career.
It was Tyson's well-documented financial woes, he owes $38 million, that finally lured the 38-year-old back into the ring for a reported seven fight-schedule over the next two years.
But does the fighter formally known as "the baddest man on the planet" still have enough drawing power to attract the kind of crowds and pay-per-view audiences he needs to fill his bank accounts?
Local promoters were vague on the exact amount of tickets that have or have not been sold for the bout, with the top seats in Freedom Hall going for $1,500.
Regardless of the crowd size, perhaps the biggest question is whether or not Tyson has anything left to make watching his bouts worthwhile.
"I am ready. I am just looking forward to fighting on Friday night," Tyson told reporters on Wednesday.
Tyson (50-4, 44 knockouts) will have to shake off ring-rustiness to be ready, even for the lightly regarded Williams.
SKILLS ERODED
His last fight against Clifford Etienne lasted all of 49 seconds and he has fought just twice in the past three years.
| | |
| --- | --- |
| | Also Read |
| | |
Since losing to Evander Holyfield in 1997, he has fought just eight times and his skills have eroded due to inactivity and age.
Tyson refuted any suggestion he could not be a contender again.
"I am 38. I am not Moses," he said. "I am only three or four years older than the world champions. Age is in the mind. As long as you are physically in good shape, age should not matter."
If the reaction around Tyson since he came to Louisville is any indication, many fans still think he is worth the price of admission.
An estimated 5,000 people gathered to see him in a public workout and several hundred jammed Freedom Hall on Thursday for the official weigh-in.
"Tyson fighting here is the best thing that's happened for boxing in this city in a long time," said Louisville resident Jack Carroll, who bought one of the pricier tickets for Friday.
"He's just got an aura about him, even with all that happens. With the heavyweight division being the way it is now, I bet he can work his way back up quickly," Carroll added as he took photographs at the weigh-in.
"He is Mike Tyson after all."