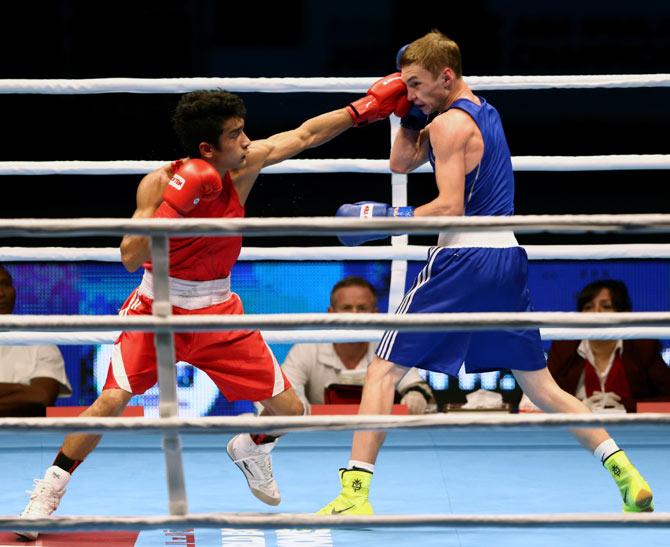 IMAGE: India's Shiva Thapa, left, lands a punch. Photograph: Warren Little/Getty Images .
The newly elected President of the Boxing Federation of India (BFI) Ajay Singh, on Wednesday, announced that senior men's and women's nationals will be held in Guwahati and Uttarakhand, respectively.
While the women's nationals will be conducted in the second half of November, men's nationals will be held in December.
The nationals are being organised after a gap of two years as the administrative mess in the Indian boxing in the past few years have taken a massive toll on the sport.
"We are delighted that with the conduct of smooth and transparent elections and the constitution of the Boxing Federation of India, Indian boxing is moving forward. These Nationals are the first step in our journey towards ensuring that India becomes a boxing super power in the next few years," said Ajay Singh.
The administrative mess dates back to 2012 when the erstwhile Indian Amateur Boxing Federation (IABF) was terminated for "manipulation in elections".
The body that took charge after two years of turmoil was Boxing India but could not carry on for even a year and was dissolved in 2015 following a revolt by the state units.
The logjam took a toll on the country's boxers and there has been no National Tournaments in the period.
Now with the Asian Games and the Commonwealth Games coming up in less than two years, it is important to conduct the nationals in order to identify boxers who can be selected for training and conditioning camps being held in preparation for these Games