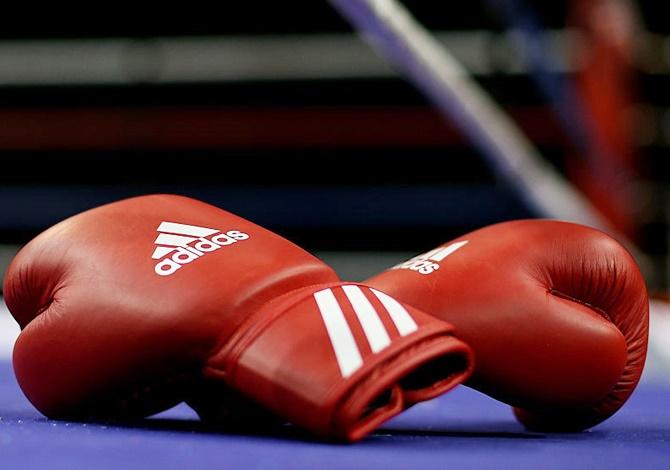 IMAGE: A detailed view of the boxing gloves ringside . Photograph: Jan Kruger/Getty Images.
Expected to end four years of administrative turmoil in Indian boxing, the Boxing Federation of India (BFI) was elected to office, on Sunday, with businessman Ajay Singh winning the Presidential poll by an overwhelming margin.
Singh, the Chairman and Managing Director of Spicejet Airlines, got 49 votes against the 15 that his rival – Rohit Jainendra Jain of Delhi -- polled in the election which had observers from the International Boxing Association (AIBA) and the Sports Ministry to monitor the proceedings.
While AIBA was represented by its Oceania Zone Vice-President Edgar Tanner, the Ministry had deputed Sports Authority of India Director Sushmita Jyotsi as observer.
The 51-year-old Singh, who was representing Uttarakhand, is an accomplished businessman credited for turning around the fortunes of Spicejet.
Singh was a late entrant to the race and sources say, he had the backing of the Indian Olympic Association (IOA).
Maharashtra's Jay Kowli was elected the Secretary General, garnering 48 votes against the 12 by his nearest rival Lenny D'Gama of Goa.
The third candidate in fray, Haryana's Rakesh Thakran, fetched only 4 votes.
Interestingly, Kowli had been voted out of this same position only last year by these state units. At that time, he was the Secretary General of Boxing India, which was dissolved following a revolt by the state units.
Assam's Hemanta Kumar Kalita had been elected unopposed as Treasurer at the end of the nomination process earlier this week.
AIBA Observer Tanner said he was satisfied with the conduct of elections.