Barry Bonds tied Babe Ruth for second place on Major League Baseball's all-time home run list with his 714th career homer as his San Francisco Giants edged the Oakland Athletics 4-2 in 10 innings on Saturday.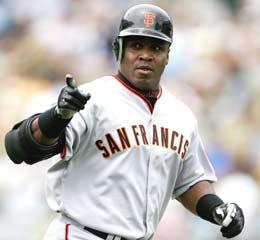 In New York, Andy Phillips drove in an 11th inning single to guide the New York Yankees to a 5-4 comeback win over the cross-town Mets, while World Series champions Chicago White Sox blanked the rival Cubs 7-0 in a brawl-marred match up.
Bonds's long-awaited homer came as he led off the second inning off Oakland starter Brad Halsey. The Giants slugger drilled a pitch an estimated 400 feet into the first deck of the elevated stands in right center field.
"I'm glad it's over with," Bonds told reporters after the game. "This took a lot off me. This is good."
While he was booed by many fans before the game, the 41-year-old Bonds received a standing ovation from the Bay Area crowd and the game was stopped for about 90 seconds after he rounded the bases.
His team mates, along with teenage son Nikolai, a Giants bat boy, greeted Bonds at the plate as he ended a nine-game homer-less streak to finally tie Ruth on the all-time list.
Only Hank Aaron with 755 home runs has more career homers than Bonds, who has been hounded by steroid allegations for several seasons.
"When I hit it I knew it was gone," Bonds said. "Now it was just, make it around the bases.
"I'm just glad it happened in the Bay Area."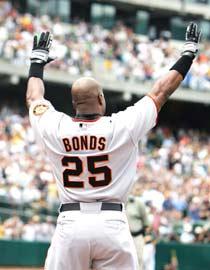 The win put the Giants back over the .500 mark at 22-21.
Ray Durham and Omar Vizquel each had two hits for the Giants, while Mike Matheny homered.
Armando Benitez (3-0) got the last five outs for the win, allowing just two hits, after Jason Schmidt went 8 1/3 innings giving up two runs on seven hits.
Kiko Calero (0-1) allowed two runs on two hits in one inning of relief and was tagged with the loss.
Jay Payton had two hits and drove in a run for the A's (22-20).