New Zealand coach John Mitchell insisted the All Blacks did not choke in their 22-10 rugby World Cup semi-final loss to Australia on Saturday.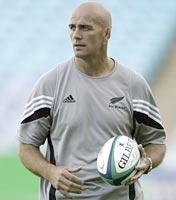 Mitchell refused to blame his players for their shock loss, saying the Wallabies had simply been too good.
"We didn't choke at all. We just got beaten by a better team," Mitchell said.
"We're not chokers, that's just a bit of a buzzword that goes around.
"What we experienced tonight was a lift in intensity. They certainly lifted the bar in that area. That forced pressure in various parts of the game and we didn't deal with that."
All Blacks captain Reuben Thorne, who scored his team's only try, said the players were heartbroken after letting another World Cup slip through their fingers.
"I don't know if I can explain how we feel," Thorne said. "We are all pretty shattered, we put a huge amount in to this."
New Zealand won the inaugural World Cup in 1987, but have failed to win since, losing in the semi-finals in 1991, 1999, and now 2003. They also lost the 1995 final to the Springboks.
There were huge expectations from them this time after they had crushed the Wallabies 50-21 in Sydney in July and the mood in New Zealand is sure to turn sour when they get home.
"I am accountable for this team and for their performance," Mitchell said.
"I feel very sorry for the people back home... but we are the people in the arena and we have to deal with it."
| | |
| --- | --- |
| | More from the semi-final |
| | |
The Australians succeeded in upsetting New Zealand's game plan by dominating the breakdown and holding firm in defence against waves of Kiwi attacks.

Australia's only try came against the run of play when Stirling Mortlock intercepted a long pass from flyhalf Carlos Spencer in the tenth minute and they never surrendered the lead after that with Elton Flatley keeping the scoreboard ticking over with a succession of penalties.

"Our execution was poor, we did not deserve victory," Mitchell admitted. "We were stopped from playing and you have to give Australia credit for that.

"They won the little contests and took the inches on the tackle line, they were very forceful at the breakdown.

"Your skills have to handle pressure, we were unable to be at our very best with our skills tonight -- sometimes it happens, unfortunately it happened to us tonight."

Thorne, a member of the New Zealand team which lost to France in the 1999 semi-finals, said there had been little in the match and his team had not buckled under pressure.

"I don't think the occasion got to us, the Australians just didn't let us play our game."