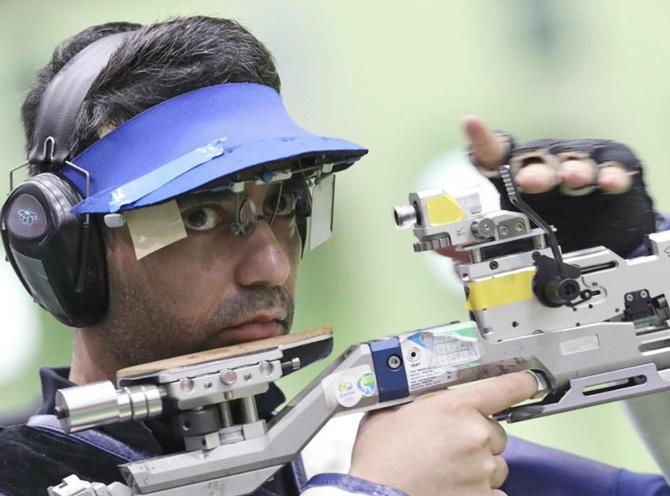 Former shooter Abhinav Bindra, India's first individual Olympic gold medallist, welcomed the suspension of the Indian Olympic Association's (IOA), which is perceived in cricket-mad India as a clumsy organisation relying mostly on government largesse and run by politicians who are opposed to new faces and fresh ideas.
"The @Olympics movement and specially the movement in India can no longer hide behind autonomy. It's the age of good governance and ethics," tweeted Bindra, who won the 10m air rifle gold in 2008 Beijing Olympics.
"Change in Indian sport will only happen if mandated. A law is necessary in India. A good step by @IndiaSports & @vijaygoelbjp to suspend IOA," he further tweeted.
Infuriated with the IOA's decision to honour two controversial administrators -- its former presidents Suresh Kalmadi and Abhay Singh Chautala -- as life presidents on Tuesday, the Sports Ministry cut off funding and the use of other facilities to the IOA.
The Sports Ministry suspended the Olympic body till the time it reverses the decision to make the tainted duo of Kalmadi and Chautala its life presidents.
The government took the firm decision after IOA failed to reply to its showcause notice within the deadline.
The IOA sought time until Jan. 15 to reply to a sports ministry notice, citing its president Narayana Ramachandran was abroad, but the ministry dismissed it as a "ploy" to buy time.
"Although the Government has utmost respect for the Olympic Charter and is committed to protecting the autonomy of sports, it cannot remain a mute spectator to blatant violation of principles of ethic and good governance by IOA..." the ministry said.
Kalmadi spent nine months in jail after allegations, stemming from the 2010 Commonwealth Games in Delhi. He was released on bail pending an appeal to Delhi High Court and has denied any wrongdoing.
Chautala is also facing unrelated corruption charges in an ongoing court case. He has also denied the allegations.
IMAGE: India's Abhinav Bindra reacts
Photograph: IOA/Twitter