Only months ago Baichung Bhutia, Indian football's pin-up boy, was being written off as a has-been after keeping a low profile for close to 18 months. That was more due to injuries (thigh and knee) and his commitment in the Malaysian League.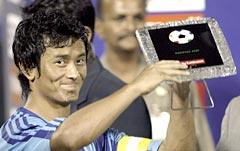 With only a few goals coming from his boots, and some cameo appearances during that period, many felt the ace striker was past his peak and on the decline. Added to that, an eight-year-old spat with national coach Syed Nayeemuddin decided to raise its ugly head and threatened to keep him out of the squad after Nayeemuddin replaced Sukhwinder Singh as coach for a third time.
Nayeem's patriotic outburst, saying he needed players who would give their life for the country and treat the national colour with pride and honour, in the process insinuating Bhutia was not committed enough for the national cause and would be a bad influence on the other players, sparked the row between the two.
However, the All India Football Federation's intervention and a telephonic conversation between the two saw them bury the hatchet and agree to script a new chapter in Indian football.
Nayeem and Bhutia were both back in the national team for the SAFF Cup in Pakistan and, ironically, looking to redeem themselves. Both did it in style.
Bhutia, who was eventually made skipper and then led the team to triumph in the SAFF Cup, which concluded on Saturday, spoke to Shantanu Ghosh on the team's success and how India should prepare for the Asian Games.
Your take on being awarded the Most Valuable Player at the SAFF tournament…
I never dreamt of winning this prestigious award. There were some very outstanding players from the Maldives, Bangladesh, Sri Lanka and Afghanistan. I owe this to the team. The support was tremendous. We played hard and fought well as a unit. It is the team that deserves the merit.
Only months ago, you were written off as an also-ran. Your critics said you were only good enough to play at the NFL, but not quick and sharp enough to contribute to the national cause at the international level. What do you have to say about that?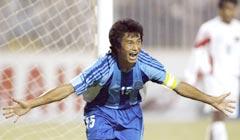 People's opinions don't matter to me. I know my body and know how much load it can take. Speed is not the ultimate requirement though it is essential in international football. I have played in Malaysia against some top international players from Brazil, the Gulf states, Africas and some from Europe. The Malaysian is one of the toughest leagues in Asia and I measured up to all there. So, I guess I'm good enough. My performance here, in the SAFF Cup, proves I'm good enough for a few more years. Just because I was out of action for some time due to injuries doesn't mean I should be written off.
What or who would you credit the success of the team to?
There is no person who can be singled out as outstanding. We played brilliantly as a unit. The advantage we had was all the players came into the SAFF Cup match-fit as they had just come out of playing tournaments -- the Federation Cup and Santosh Trophy, apart from playing in the local leagues. And most of us have played together. So there was a good amount of understanding between us. There was great team spirit. And we worked very hard for this triumph.
What do you have to say about the standard of the SAFF countries?
There has been a tremendous change. The standard has improved in leaps and bounds. Look at Afghanistan, Bangladesh, Bhutan, Nepal, Maldives. They all had foreign coaches from Argentina and Germany as well and were preparing months ago.
So would you say India's standard too has improved?
Yes. The players think more professionally now. You can expect much more improvement, but the system will have to get more professional in their functioning in terms of preparing the calendar two years in advance and not make changes to please associations during the calendar year.
Also, the national players should not be taxed too much but given space to recover. The focus should be on the juniors now ahead of the Asian Games.
What would you think is needed to prepare for the Asian Games?
Firstly, the AIFF should not send any senior players for the SAFF Challenge Cup in March 2006. They should send an under-23 team and start giving them exposure right now ahead of that tournament. That tournament could give us an idea where we are lacking and then the AIFF and national coach should work on those areas.
Thereafter, they can add the seniors they plan to pick (three over 23 players are permitted in each team for the Asian Games) to field for the Asian Games and send them for some further exposure. That way the team will be better prepared for the Asian Games.
Photographs: Aamir Qureshi/AFP/Getty Images