Ask Arsenal manager Arsene Wenger and he will tell you Dennis Bergkamp is a genius.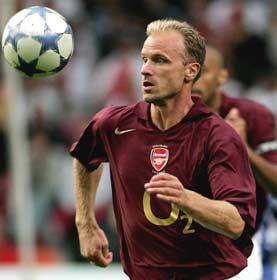 Like his Arsenal team mate Thierry Henry, Bergkamp is that rare breed of forward who is as adept at setting up goals as scoring spectacular ones himself.
The Dutchman, who plays his final league game on Sunday, will be remembered for scoring one of the top 10 World Cup goals, winning European trophies with Ajax Amsterdam and Inter Milan, and an 11-year Arsenal career highlighted by two Premier League and FA Cup doubles.
What has set Bergkamp apart is his touch, vision and slide-rule passing which could flip open a defence in the blink of an eye from his position in the "hole" behind his strikers.
Until the arrival of Henry, many fans considered him the most skilful foreigner to have played in English football.
Bergkamp, 37 next Wednesday, helped the Netherlands reach the World Cup quarter-finals in 1994 and the last four in 1998. Both times they went out to Brazil while a bomb scare during the 1994 tournament in the U.S. put him off flying for life. His last-minute winner in the 1998 quarter-final against Argentina in Marseille was ranked in a poll as the sixth best in World Cup history.
Bergkamp raced into the Argentina box, brought down a high 50-metre pass out of defence from Frank de Boer, turned inside defender Roberto Ayala and blasted a rising shot from the right past goalkeeper Carlos Roa into the roof of the net.
The goal set a Dutch national team scoring record, since surpassed by Patrick Kluivert. Bergkamp quit international football in 2002 with 37 goals in 79 games. "When Dennis Bergkamp scores, it's not a common goal, it's always what we call 'a Dennis Bergkamp goal'," Henry said. "He is the best player I have ever played with as a partner. It is a dream for a striker to have Dennis in the team with you."
AJAX SCHOOL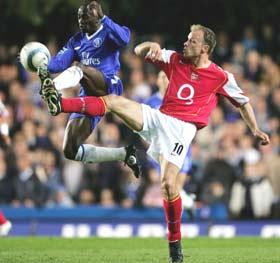 The Amsterdam-born Bergkamp, named Dennis in honour of former Manchester United and Scotland striker Denis Law, was a product of the famous Ajax youth scheme.
He was promoted to the first team by Johan Cruyff and made his debut at 17 in December 1986.
He helped the Amsterdam team win the European Cup Winners' Cup in 1987 and won his first league title with them in 1990, the year he made his international debut against Italy.
Bergkamp, the Dutch league's top scorer in three consecutive seasons and twice player of the year from 1991 to 1993, helped Ajax win the UEFA Cup in 1992 and the Netherlands reach the semi-finals at Euro 92 in Sweden.
He also played at Euro 96 in England and Euro 2000 in his home country.
When Bergkamp left Ajax for Inter in 1993 he had played 185 league games for Ajax scoring 103 goals.
He spent an unsettled two years in Italy but still won a second UEFA Cup with Inter whose emphasis on defence did not suit his style.
He denied that his Italian experience was all negative.
"I think I learnt a lot. I think I wouldn't have been the footballer I am now if I didn't go there," said Bergkamp, who scored 11 goals in 52 Serie A games.
RECORD MOVE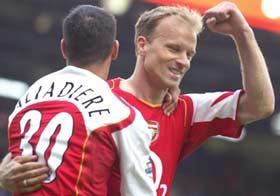 Bergkamp was a lover of England where he had spent many holidays as a boy and an admirer of former England midfielder Glenn Hoddle. He became Arsenal's record signing for 7.5 million pounds ($14 million) in mid-1995.
He has seven winner's medals from his time at Arsenal - three Premier League titles and four FA Cups - and scored 87 goals in 314 league games.
He could add to that in his final league game against Wigan Athletic at Highbury on Sunday and might yet sign off with the greatest club prize of all if Arsenal lift the European Cup on May 17.
Bergkamp was voted England's Footballer of the Year in 1998, the year of the first of his two "doubles", and became a huge favourite of the Highbury faithful.
When Wenger appeared to be wavering about granting Bergkamp a final one-year contract at the end of the 2004/5 season, the Dutchman set up three goals and scored one in a 7-0 drubbing of Everton.
The 35,000 fans roared "one more year" and their wish was granted by Wenger.
"I think I learnt a lot. I think I wouldn't have been the footballer I am now if I didn't go there," said Bergkamp, who scored 11 goals in 52 Serie A games.
Bergkamp's refusal to fly led to long road trips for club and country and he was often left out of the Arsenal squad for away matches in the Champions League. "To me there is no problem. In deciding not to fly again I've made a solution to a problem," Bergkamp said.
"I felt free of worries again and I believe it's not a coincidence that I've played the best football of my career at Arsenal, since I made that decision".
Bergkamp has no plans to coach or take a media role, and has said he will be relaxed about walking away from football.