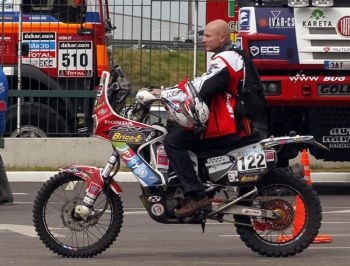 Belgian motorcycle rider Eric Palante has died during the Dakar Rally in Argentina, race organisers said in a statement on Friday.
They said the 50-year-old's body was found by officials at around 0830 local time at the 143km mark of the fifth stage between Chilecito and San Miguel de Tucuman in the north of the country.
A local judge was looking into the circumstances of the Belgian's death. Organisers said they had received no alert from the rider, who had water with him.
Palante was competing in his 11th Dakar in the amateur category.
"He knew the race very well, and over the years his enthusiastic but serious approach had made him one of the pillars of the event," the statement said.
The Dakar Rally runs through Argentina, Bolivia and Chile with the finish in Valparaiso on January 18.
It is now in its sixth year in South America after starting out as a gruelling and frequently fatal race from Paris across the Sahara to the Senegalese capital Dakar.
Image: Eric Palante
Photograph: Enrique Marcarian/Reuters