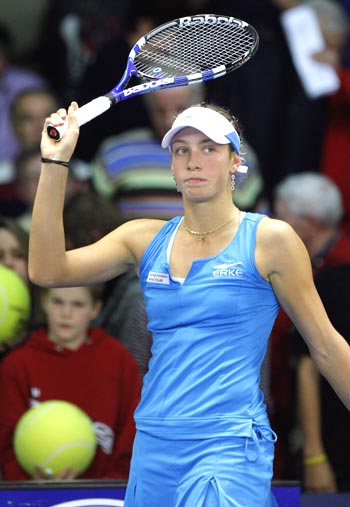 A Belgian court on Monday suspended a one-year ban imposed on tennis players Yanina Wickmayer and Xavier Malisse for violating anti-doping regulations, Wickmayer's agent said.
The Court of First Instance in Brussels suspended the ban, citing administrative errors with the way it was imposed, the Belgium Tennis Federation reported on its website.
"The ruling is complex but the bottom line is that the ban is suspended," Wickmayer's agent Rudi Kuyl informed.
Wickmayer, 20, a semi-finalist at this year's US Open, was given a one-year ban in November for failing to comply with tennis's stringent anti-doping regulations.
The world number 16 failed three times to notify her country's doping agency, where she could be reached.
Malisse, a former Wimbledon semi-finalist and world number 19, was also suspended for a year for missing a doping test and twice failing to say where he could be reached.
The 29-year-old said last month that the suspension would probably mean the end of his injury-affected career.
Both Wickmayer and Malisse announced last month that they were appealing against their bans to the Court of Arbitration for Sport (CAS).
"While the decision by the Belgian court means both players could play again, there were still legal obstacles to negotiate before the suspensions were completely cleared," Kuyl said.