Former England captain David Beckham, who will retire at the end of the season, will skipper French champions Paris St Germain in their final home game, the Ligue 1 club said on Saturday.
PSG, who clinched their first French league title since 1994 last weekend, take on already-relegated Brest at the Parc des Princes before travelling to Lorient next Saturday.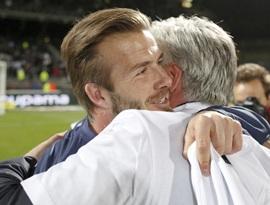 Beckham, 38, joined PSG in late January and has made only nine appearances in Ligue 1 this season.
Photograph: Robert Pratta/Reuters