Bayern Munich president Uli Hoeness was charged with tax evasion on Tuesday after months of investigations into the high-profile affair were concluded, a Munich court said.
Hoeness stunned Germany in April by saying he had voluntarily alerted tax authorities in January to a Swiss bank account he held, throwing the former West Germany international's future into doubt.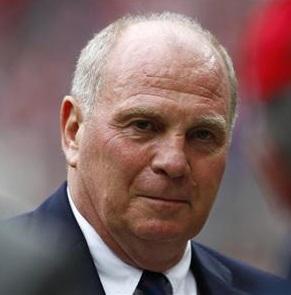 "The Munich II prosecutor's office has completed the investigation and has filed charges with the respective court," Munich's regional court said in a statement on Tuesday.
Hoeness, who could face a jail sentence but hopes for leniency after naming himself as a tax evader, has said the account had nothing to do with Bayern.
He said it was a personal account, created for his stock market trading. He admitted to gambling bigger and bigger amounts and taking a major hit as the dotcom bubble burst.
Bayern, who enjoyed their greatest success by winning the treble amid the furore of the affair earlier this year, have stuck with their president, turning down an offer by Hoeness to step down.
Hoeness has been at Bayern for more than 40 years, having served as a player during the 1970s, a period of great success.
He then spent 30 years as the team's general manager before being elected president of the Bundesliga's richest and most successful club.
Image: Bayern Munich's president Uli Hoeness is pictured before the Uli Hoeness Cup friendly soccer match between Bayern Munich and Barcelona in Munich July 24, 2013.
Photograph: Michaela Rehle/Reuters