Barcelona's payment of 40 million euros to a company owned by Neymar's father as part of the Brazil forward's 57.1 million euros transfer fee is being investigated by Spanish state prosecutors for misappropriation of funds.
Neymar was paraded as the Catalan side's main signing ahead of the season, after they beat off competition from Real Madrid, to partner Argentine Lionel Messi in attack.
However, the details of the contract were shrouded in mystery and a club member, Jordi Cases, having not received a reply from Barcelona for more information, took legal action against club president Sandro Rosell.
Rosell denies any wrongdoing and the club reacted angrily after the state prosecutor asked the courts to open proceedings, saying Neymar's signing was "complex" and an example of "business engineering" and that they would act forcefully to defend the honour of the club and its president.
Spanish media have reported that an agreement was made between Barcelona and N&N, a company owned by Neymar's father, which gave the Catalan side the right to buy Neymar in 2014 in return for a downpayment of 10 million euros.
The player's price would be 40 million euros but if either side broke the agreement then that sum would have to be paid as a "penalty clause" which is what local media say happened because Barca bought him a year earlier in June 2013.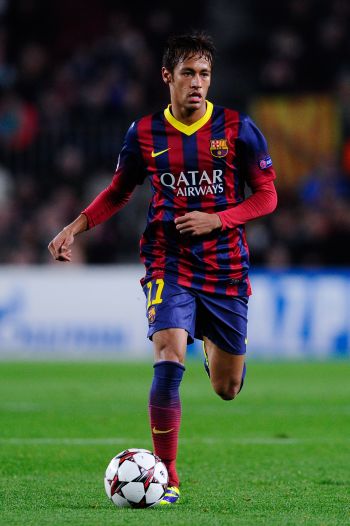 A further 17.1 million euros was paid as a transfer fee to Neymar's former club Santos in Brazil, Barca said last month.
FINAL DECISION
The legality of the agreement has been investigated by prosecutors who have examined the contracts and the club's accounts and believe there may be a case to answer.
The final decision on whether to start a hearing will be made by a judge.
In Barcelona's 2013 accounts, according to the prosecution, there is no mention of a penalty payment but only the fact that the club had bought Neymar with no amount specified.
"There is also no exact figure for how much Santos were paid for the rights for the player before his contract expired," the prosecution said.
The prosecution added that there was reason to believe there could be a case of "contractual simulation" or altering the final figure of what has to be paid.
In an interview with the Catalan newspaper Sport, Neymar said he believed there was nothing illegal about his transfer.
"I know that a lot is being said about my contract. I have spoken to (my father) to see what they were talking about exactly. My father was the one who signed the contracts and he is someone in whom I have total trust," he said.
"There is nothing illegal. In any case, if anyone has any doubts, they should ask my dad because I'm concentrating on my job, which is playing football."
Image: Neymar
Photograph: David Ramos/Getty Images