Following is a factbox detailing key numbers around Spain's El Clasico between Real Madrid and Barcelona. The arch rivals meet at Barca's Nou Camp stadium in La Liga on Saturday in a match that could decide the destination of the title. Real have a four-point lead with five games left.
-Do you know the key words on El Clasico
9 - The number of victories for Barca coach Pep Guardiola in 14 El Clasicos since he took over in 2008 (La Liga, King's Cup, Champions League and Spanish Super Cup). Real have won just one, a 1-0 extra-time success in the 2011 King's Cup final
-El Clasico high noon for Ronaldo and Messi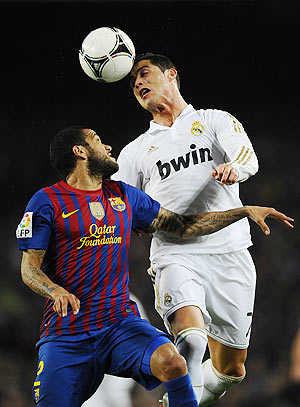 11 - The number of La Liga matches Barca have won in a row since losing 3-2 at Osasuna on February 11. The streak has helped them trim six points from Real's lead as Jose Mourinho's side slipped to draws against Malaga, Villarreal and Valencia.
13 - The number of goals scored by Lionel Messi in 18 El Clasicos. The World Player of the Year is the highest scorer among current members of either squad and is joint-fifth on the all-time list with former Real winger Gento. He has not scored in his last three games against Real.
18 - The number of goals former Real player Alfredo Di Stefano, now the club's honorary president, scored to top the all-time El Clasicos scorers' list.
18 - The number of cards the most booked player, former Real and Spain defender Fernando Hierro, collected in official El Clasicos (17 yellow and one red).
63 - The number of goals Messi has scored in all competitions this season (including the Spanish and European Super Cups and the Club World Cup). He and his great rival Cristiano Ronaldo both have a record 41 in La Liga and Ronaldo has 53 in all competitions.
86 - Barca and Real have both beaten each other 86 times in official matches, with 46 draws.
218 - The number of official El Clasicos played since the pair's first encounter in the last four of the Spanish Cup on May 13, 1902, which Barca won 3-1.
365 - The number of goals Real have scored in official El Clasicos, 11 more than Barca.
Photograph: David Ramos/Getty Images