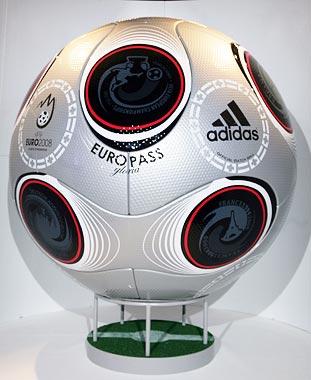 A giant soccer ball placed above Geneva's famous Jet d'Eau fountain as part of preparations for Euro 2008 has been dismantled after being damaged by high winds.
The helium-filled ball, 15-metres in diameter, had been tethered to the Swiss tourist attraction last month but was taken down on Monday for urgent repairs.
City officials said on Tuesday the ball's internal and external layers had been ripped apart by a storm that tore through Geneva on Friday afternoon.
They added that the ball had been sent back to its British manufacturers for rapid repairs in the hope of replacing it on the fountain by Euro 2008's June 7 start date.
Switzerland and Austria are co-hosting the tournament, which runs until June 29.