Olympic champion Taufik Hidayat of Indonesia beat world number one Lin Dan in straight games to win the World Badminton championship men's singles title in Anaheim, California.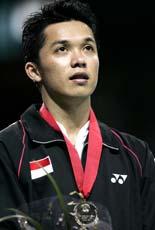 The 24-year-old Indonesian becomes the first man to hold the Olympic and World titles at the same time.
World no 6 Hidayat set the tone early by winning the first 13 straight points of the match en route to a 15-3, 15-7 victory in 36 minutes at the Arrowhead Pond arena on Sunday.
"I am very fortunate and grateful," Hidayat said. "All of my targets of winning the prestige tournaments have been achieved.
"Not everybody gets an Olympic as well as a World Championship. This proves I am one of the best in men's singles."
This is the third career victory for Hidayat over Lin and comes just seven weeks after Hidayat beat Lin in the semi-finals of the Singapore Open.
Lin was trying to end the top-seed jinx at the World championships as only two top seeds have won the men's title since the first Worlds in 1977.
"I had a bad start and nothing more," Lin said. "I will be back next year to win the title again."
Hidayat clinched the title with an arching overhead smash that froze Lin in his tracks.
Hidayat, who said it was his dream to become the first in history to hold both major titles, then dropped to his knees and cupped his face in his hands.
He is also the reigning Asian Games champion.