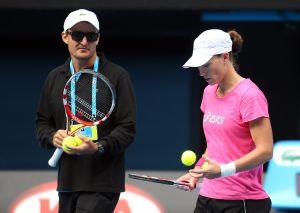 Australia's Sam Stosur has split with her long-time coach David Taylor, the former U.S. Open champion said on Saturday.
Taylor oversaw Stosur's transformation from a doubles specialist into a formidable singles player after teaming up with the Australian during her comeback from the tick-borne Lyme disease which sidelined her for much of the 2007 season.
"We've had a tremendous working relationship and I owe so much of my success to Dave's hard work and enduring support," the 29-year-old said in a statement.
"His dedication during the many highs and lows of my career has been unwavering both on and off the court. I wish Dave all the very best for the future."
A winner at Flushing Meadows in 2011, Stosur will work with Australia's Fed Cup captain Alicia Molik during the upcoming U.S. Open and would think about longer term options after the tournament, she said.
Currently ranked 11th in the world, Stosur recently won her fourth WTA singles tournament at Carlsbad, the first since her U.S. Open title two years before.
Image: Samantha Stosur and David Taylor
Photograph: Scott Barbour/Getty Images