Defending champion Novak Djokovic gritted his teeth after suffering a leg injury to grind down David Ferrer 6-4, 7-6, 6-1 at the Australian Open on Wednesday and set up an intriguing re-match of last year's final with Andy Murray.
Leading 2-1 in the second set of their quarter-final at the Rod Laver Arena, Djokovic lurched awkwardly when chasing a ball to defend a break-point, and grimaced in pain as he clutched his left leg.
- Paes in men's doubles semis; Sania-Vesnina lose
Walking gingerly between points but still in full flight during play, the world number one survived a pulsating second set and stunned the nervous Spaniard by taking an early break in the third.
Fifth seed Ferrer doggedly chased down everything thrown at him but was powerless to stop Djokovic's charge as the Serbian found his range in devastating form to seal the last set in 30 minutes with an ace.
- Images: Sharapova, Kvitova in semis showdown
Murray had earlier in the day shrugged off a sore neck to end Kei Nishikori's brilliant run at the Open, carving up the Japanese with a dominant 6-3, 6-3, 6-1 victory to stroll into his third successive semi-final at Melbourne Park.
Nishikori, the first Japanese man through to the last eight in Melbourne for 80 years, won support from kimono-clad fans as the underdog at sun-bathed Rod Laver Arena, but left with his tail between his legs after a two-hour 12-minute spanking.
While serving appallingly and rarely setting the court alight, Murray assumed control from the outset, exploiting the flashy Japanese's comparative lack of height with lobs and running him around the court to distraction.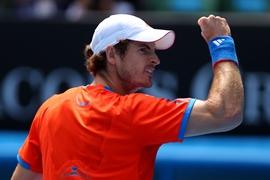 Murray, who landed only 44 percent of his first serves and was broken twice in the match, said he had woken up with a pain in his neck and wasn't sure if it had affected him against Nishikori.
"I had a sore neck today when I woke up and I wasn't feeling all my serve. I don't know if it had anything to do with that," the 24-year-old Briton told reporters.
"But I was returning good, hitting the ball clean from the back of the court, moved forward well. So it was good."
The fourth-seed stepped up a gear in the third set as fatigue took its toll on the 22-year-old Japanese, who had played two epic five-set matches and a long four-setter in his previous three rounds.
Irked after handing back a break early in the third set, Murray stomped back to his chair at the change of ends and flung a bottle of water in anger.
He emerged belligerent after a brief sulk, and whipped through the final set in 29 minutes, sealing it on the second match point when Nishikori belted a forehand return into the net.
Nishikori entered the blue centre court to face-painted Japanese fans chanting his name, but was soon on the back foot against Murray who broke him immediately on the way to a 3-1 lead.
Toying with the Japanese, Murray lured Nishikori to the net with drop-shots and then sent lobs looping over his head time and time again.
The tactic worked invariably, but the scrambling Nishikori chased one lob down and made a play for the highlight reels at 3-1 in the first set that had the stands roaring their approval.
Charging back from the net to retrieve a shot, Nishikori lobbed Murray from between his legs, then smacked a forehand down the line after the world number four could only tap a volley harmlessly over the net.
Murray's attempt at a 'tweener' in the following game fell flat, however, when his swiping racket connected with only fresh air as he galloped across the baseline.
Although losing the "fun" points and most of the crowd to the plucky Nishikori, Murray knuckled down for the points that mattered, launching a booming serve to seal the first set and taking another early break in the second.
The 24th seed Nishikori had played five more sets in his previous three matches than Murray and it appeared to show as he surrendered the second set with a pair of unforced errors.
He broke back to 1-1 but his serves became cannon fodder for the fourth-seeded Scot who motored home to set up his fifth consecutive grand slam semi-final.
"Yeah, it's been a good run," said Murray. "I mean, it's not easy to do... It's good to see that I've been playing my best tennis at the slams because that's something the last couple years I wanted to make sure I was doing.
"That wasn't always the case."