Andy Murray set up an enthralling Australian Open final against world number one Novak Djokovic after a high-quality victory against Roger Federer on Friday.
The 25-year-old Briton, who had never beaten Federer in a Grand Slam previously despite being one of the few players to hold a superior career record against the Swiss, advanced to the final with a 6-4, 6-7, 6-3, 6-7, 6-2 win in four hours.
Murray had looked the more likely to win the match from the outset with a superior service game and aggressive shotmaking, but the 17-times Grand Slam winner proved he is still a force to be reckoned with by forcing a fifth set.
The US Open champion, however, got off to a storming start in the fifth, racing out to a 3-0 lead and after being two points from the match in the fourth set was not prepared to let the opportunity slip again.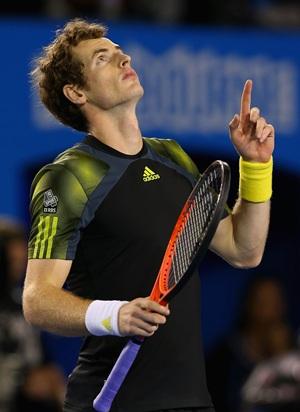 "It's always tough against him. Slams are when he plays his best tennis," Murray said in a courtside interview. "When I was serving for the match at 6-5 in the fourth, he came up with some unbelievable shots.
"I didn't play the best tiebreak, it's hard when you're serving for a place in the final and a few minutes later you are into a fifth set."
SUPERB SERVICE
Murray produced a superb service game in the first set, broke in the third game and gave Federer only one break opportunity to take the first set 6-4 in 45 minutes.
Neither player was prepared to give any quarter in the second set as they thrusted and parried, punched balls down the tramlines, produced delicate drop shots and running cross-court passing shots from amazing angles to force a tiebreak.
Murray was the first to blink when he allowed Federer to a 4-1 lead and while he battled back to 5-5, Federer seized the opportunity from a mistimed overhead from Murray to level.
Murray quickly dismissed the disappointment of dropping the set, picking up his serve again and increasing the accuracy and power on his forehand.
He set up three break points in the sixth game, sealing it on his second, to take a 4-2 lead and then blasted through the next game to love to ensure he closed out the set two games later when he served his 16th ace of the match.
Federer jumped out to a 4-1 lead in the fourth set when he finally broke Murray's serve for the first time in the fifth game, but the Scot stormed back, levelled at 5-5 and was two points away from the match while serving.
The Swiss, through sheer force of will, forced a tiebreak and deciding set, though Murray powered through it in just 30 minutes as he broke in the opening game and held his own serve to love twice to set up the final against the Serb.
"He (Djokovic) plays his best tennis here, it's his third final in a row and I'll have to play pretty well," Murray said.
"I hope it's a painful match because that will mean it's a good one."
Image: Andy Murray of Great Britain celebrates winning his semi-final match against Roger Federer of Switzerland at the Australian Open.
Photograph: Julian Finney/Getty Images