Roger Federer thrashed Juan Martin Del Potro 6-4, 6-3, 6-2 to reach the Australian Open semi-finals on Tuesday, exorcising a Grand Slam demon against the Argentine in his 1,000th tour match.
The Swiss, chasing a 17th Grand Slam crown and fifth in Melbourne, was never seriously threatened in their first meeting in a major since losing the 2009 US Open final.
But in scorching heat at Rod Laver Arena, the third seed wobbled when serving for the second set, perhaps mindful of how he surrendered the title at Flushing Meadows from exactly the same position.
With shadow crawling across centre court, Federer double-faulted to bring up two break points and ended up having to save four to close out the set.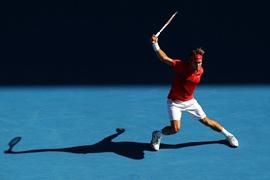 After saving the fourth following a fierce baseline skirmish, the 30-year-old let out a loud roar in a rare display of emotion before charging to victory in just under two hours.
"That's why I didn't celebrate when I won the set -- just to make it up, you know," Federer told reporters.
"It was a couple of big moments for me. I really knew how important that game was for me.
"I was honestly a bit scared to hit through it just because it was tough to see the ball out there with the sun coming in from the side.
"I was struggling as well with the serve just a little bit. I mean, photographers were having a blast. Every time I was tossing up the ball I heard about a hundred clicks, you know, so it was quite something out there.
"But I was able to come through and it was big."
The win secured the Swiss maestro a 30th Grand Slam semi-final and extended his record to an astonishing ninth in succession at Melbourne Park, where he is expected to meet great rival Rafa Nadal in the last four.
Nadal was playing Czech seventh seed Tomas Berdych in the evening match at Rod Laver Arena and Federer insisted he wanted a crack at the Spaniard.
"Obviously I'd like to play Rafa because of our great epic match earlier in the finals here a few years ago," said Federer, who lost a five-set classic to Nadal in the 2009 final.
"I'd like to get a chance to play him again here."
Federer, who blasted Del Potro in straight sets in their 2010 quarter-final at Melbourne Park, dominated again with some exquisite shot-making, including 38 sweetly struck winners.
"I didn't look at this one as a statement win. I knew the danger of playing Juan Martin, so potentially it was my big test," said Federer.
"I don't think players are going to read into this performance much. I'm just happy I'm moving on and I'm in the semis already."