World number one Novak Djokovic looked like a man in a hurry as he thrashed Nicolas Mahut 6-0, 6-1, 6-1 in 74 minutes on Saturday to reach the Australian Open last 16.
Mahut, who was involved in an epic 11-hour match against John Isner at Wimbledon in 2010, turned 30 on Saturday and was battling with a left knee injury but the only thing he received from the world number one was short shrift.
- PHOTOS from day 4 at the Australian Open
Djokovic was relentless from the baseline against Mahut, passing him virtually at will and banging back deep service returns the Frenchman had no chance of returning with his movement hindered due to heavy strapping on his knee.
Djokovic will meet either Australian Lleyton Hewitt or big-serving Canadian Milos Raonic in the last 16.
Sharapova represses Kerber hope
Former champion Maria Sharapova continued to sweep through the Australian Open draw with a dominant 6-1, 6-2 third round victory over German Angelique Kerber.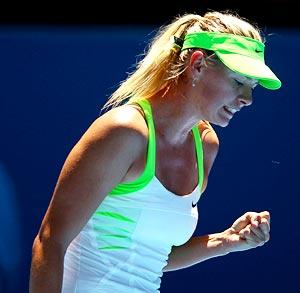 Sharapova, who won the last of her three Grand Slam titles in Melbourne four years ago, reached the last 16 having conceded just five games in three matches after 6-0, 6-1 victories in the first two rounds.
Kerber, the 30th seed, offered a little more resistance to the aggressive Russian than her predecessors with a service break after a 15 minute game at 2-0 down in the second set.
Sharapova, however, simply upped the decibel level in her shrieks and battered her opponent into submission with her ferocious groundstrokes in 87 minutes.
"I felt like I was aggressive enough," she said. "In the first set, I didn't give her a chance to do what she likes. In the second set, it became a bit more of a battle. But I felt like I stepped it up when I had to here and there."
The fourth seed was forced to pull out of the year-end championships last October and a Brisbane warm-up event earlier this month with an ankle injury.
Sharapova is only 24 but has just embarked on her 11th year as a professional, making her one of the more experienced players on the circuit.
That experience, she said, is a big help when she returns from injury straight into a big tournament.
"You know your strengths," she said. "You know what's won you matches before, what's won you grand slams. You know what's gotten you to the top.
"I don't think necessarily all those things, if you repeat them the same way, will maybe get you the same result because everything always changes.
"You have to adapt to whatever comes your way. I mean, not one day is ever the same, not one match is ever the same. You have some good ones, some disappointing ones.
"But you stick to what you do best."
Next up in the fourth round is compatriot Svetlana Kuznetsova or another German in Sabine Lisicki with a possible showdown against five-times champion Serena Williams looming in the quarter-finals.
Sharapova revealed that between matches in Melbourne she has been reading George Orwell's dystopian novel "Nineteen Eighty-Four".
In the Newspeak of the press conference, it is never done to look further ahead than the next opponent and the Russian was duly dismissive when asked if her thoughts ever strayed to considering how the second week might pan out for her.
"It's pretty much the next match," she said.