Novak Djokovic kept cool in stifling Melbourne heat to kick off his Australian Open title defence with a straight-sets thrashing of Italian Paolo Lorenzi on Tuesday and not even a grilling about a possible player's revolt could make him break sweat.
With talk of strike action from disgruntled male players swirling around Melbourne Park in the tournament's opening days, reporters eagerly awaited the chance to get the world number one's take on the issue.
- Images from day two of the Australian Open
After pleasantries about the weather were dispensed with following the Serb's 6-2, 6-0, 6-0 romp over journeyman Lorenzi, Djokovic was asked to cut to the chase.
"It's obvious that there is a lot of players in men's tennis that are complaining about the schedule and season," Djokovic said with a shrug when asked about demands for change.
"They don't even need to say much. But just looking at the injuries that we have, especially from the top players, including myself, I felt that towards the end of last year it's obvious that we need some change.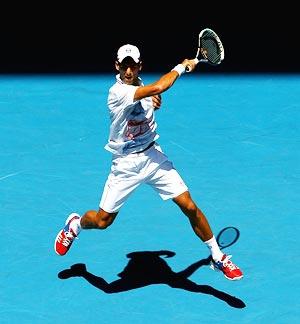 "But I prefer talking in detail about these things behind closed doors."
Lower-ranked players, complaining about the distribution of prize money at Grand Slams and mandatory ATP events, have flagged boycotts at future tournaments if their demands to get a bigger share of revenues are not met.
Calls to form a fully-fledged players' union have circulated Melbourne Park, but Djokovic struck a cautionary note.
"It's a question mark because there are a lot of different players with a lot of different opinions," Djokovic added.
"So we will have to take a lot more discussions and see what is the best option for all of us."
TRICK-SHOT CLINIC
There was little caution in Djokovic's play at Rod Laver Arena, however, as he recovered from an early service break to rattle off 17 consecutive games and seal his first-round match in just over an hour against 109th-ranked Lorenzi.
The efficiency of his victory, with the temperature soaring above 30 degrees Celsius for the second day in a row, ensured there would be no repeat of the heat-induced meltdown Djokovic suffered during his first title defence at Melbourne Park in 2009.
Then, Djokovic was criticised for lacking backbone when he retired citing illness during his quarter-final against Andy Roddick.
The 24-year-old Serb has since turned into something of an iron-man and blasted Andy Murray off the court in stifling evening heat in last year's final during a 41-match win streak to start the season.
Against Lorenzi, an enthusiastic baseline slugger still searching for a Grand Slam match win, Djokovic felt comfortable enough to turn the match into a trick-shot clinic toward the end, flicking an attempted lob back through his legs before closing out the match with a delightful drop-shot.
"Today was I think around 35 degrees, so it took a bit of time to get used to the heat," said the four-times Grand Slam winner, who will play Colombia's Santiago Giraldo in the second round.
"But I'm quite happy physically the way I'm handling the heat."