Thousands of people lined the streets of central Sydney on Wednesday to officially welcome home Australia's Olympic team more than two weeks after the Athens Games ended.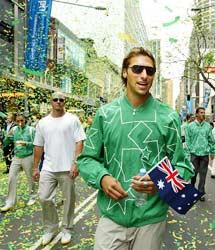 More than 250 members of the team that competed in Greece were greeted by 100,000 flag-waving fans in a rapturous parade from the harbour foreshore to the city town hall.
Sailor Colin Beashel, a six-time Olympian, and swimmer Petria Thomas, a triple gold medallist in Athens, led their team mates on the 45-minute street march as they were showered with green and gold ticker-tape.
"This is out of control, it's great," giggled Thomas, who also carried the national flag at the closing ceremony in Athens.
Thousands of people followed the parade, held exactly four years to the day after the opening ceremony for the Sydney Olympics, to the steps of the Town Hall where Beashel accepted the keys to the city from Lord Mayor Clover
Moore in a civic reception.
"These athletes achieved great things in Athens, they did our small country proud," Australia's Olympic Committee president John Coates told the crowd.
The parade was broadcast live on national television and the athletes were surrounded by camera crews and photographers while the central business district came to standstill.
Australia won 49 medals in Athens, include a record 17 golds, to finish fourth in the medals table and become the country's most successful Olympic team.
Many of the gold medallists, including swimmer Jodie Henry, cyclists Ryan Bayley, Anna Meares and Sara Carrigan, stopped to sign autographs and pose with supporters.
But the biggest cheers were reserved for swimmer Ian Thorpe, who arrived unshaven and wearing dark sunglasses and accompanied by a personal bodyguard.
Thorpe won two gold medals in Athens after winning three in Sydney to become Australia's greatest Olympian.
"We're all very appreciative to know how much support we have," Thorpe said.