World No 8 Jo-Wilfried Tsonga has claimed emotional instability is the major reason behind the lack of a consistently dominant group in women's tennis to match the men's big four.
Swiss ace Roger Federer's five-set quarter-final win over Tsonga on Wednesday night meant the top four men's seeds all reached the Australian Open semi-finals, News.com.au reports.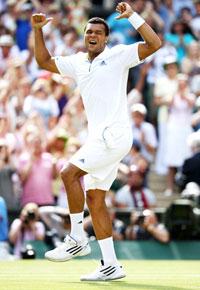 That was not the case for the women, after 19-year-old American Sloane Stephens upset five-time champion Serena Williams in a quarter-final on Wednesday, with China's Li Na having ousted fourth seed Agnieszka Radwanska on Tuesday, the paper added.
Tsonga said the girls are more unstable emotionally than men when asked why there were more upsets in the women's draw. The Frenchman added he is sure everybody will agree with him, including the girls, adding it's just about hormones and all this stuff.
Tsonga said men don't have all these bad things so we are physically in a good shape every time and girls are not. Tsonga said the rankings in men's tennis don't lie but he was unsure what was stopping him from bridging the gap to the top four.
Tsonga also tipped Andy Murray to take the men's title, given he hasn't dropped a set in reaching the semis, whereas the other three semi-finalists have each had to endure a five-setter.