Novak Djokovic beat Andy Murray in straight sets to win the men's singles title at the Australian Open on Sunday.
The Serb, seeded third, needed 159 minutes to overcome his fifth-seeded opponent 6-4, 6-2, 6-3 in a one-sided contest at Melbourne Park.
It was Djokovics' second major title and 19th win overall. Having comfortably won the opening two sets, the Serb got a crucial break in the eighth game of the third set and then served out the match.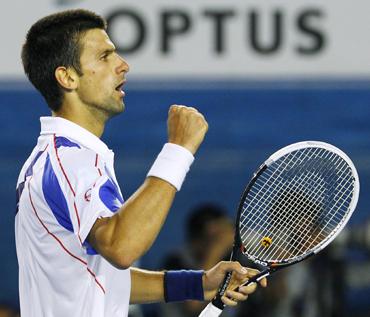 The win improved the Serb's overall record against the Briton to 5-3.
Djokovic and Murray put friendship aside when they met on Sunday to decide who fills the power vacuum left by the early exits of Rafa Nadal and Roger Federer.
The two 23-year-olds, born a week apart, contested the first grand slam final without the dominant pairing of men's tennis since Djokovic beat Jo-Wilfried Tsonga at Melbourne Park in 2008 to win his first major title.
While Djokovic had that one major title, Sunday's final offered Murray a third attempt to end Britain's 75-year wait for a men's grand slam champion, as much as he liked to downplay the quest.
The Scottish fifth seed came up well short in his two previous grand slam finals, a loser to Federer in straight sets at both the 2008 U.S. Open and again on Rod Laver Arena last year.
And Sunday was no different.
Djokovic was contesting his fourth grand slam final and his second in a row after last year's U.S. Open final defeat to Nadal.
Djokovic and Murray first played each other as pre-teens and have grown up together on the tennis circuit, building a friendship based on their love of football among other things.
The Briton had won their last three meetings.
However, on Sunday, it was the Serb who dominated from start to finish.