Arjun Atwal laments his putting hasn't blossomed on the greens of the Delhi Golf Club. The Orlando-based Indian, very much in the title hunt at tied sixth, reckons he will have to sort it out as he goes into the final two rounds of the Indian Masters.
With overnight leader Jyoti Randhawa tumbling down the leaderboard, Atwal, along with Digvijay Singh, is the highest-placed Indian in the US $2.5 million European Tour event. But he admitted that the grainy Bermuda grass keeps him on tenterhooks.
"I never putted well here," Atwal said, pointing towards the birdies that slipped through his fingers.
"At the ninth hole, I missed a two-foot birdie putt. Then, at the 13th, I missed it by three feet and again at the 18th hole.
"I have got to iron it out as I head for the weekend rounds," Atwal said.
Asked to compare the greens here with those in the United States, Atwal, the first Indian to make it to the PGA Tour, said, "In the US, only when you are playing in Florida, it gets grainy like this. The Bermuda here is very tough."
He revealed that he relied a lot on caddie Ali Jaan to read the lines.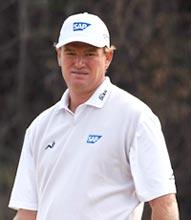 "On every hole, he read the line for me. He knows my speed and has been caddying for me since I was young," Atwal said.
His views were echoed by Ryder Cup star Darren Clarke, who carded a 69 on Friday.
"I struggled on the greens. They are so grainy that I'm struggling to pick my lines. I just hung in there and chipped in at last, which was a nice way to finish," said the golfer from Northern Ireland, who is down with the 'Delhi Belly'.
His putting woes notwithstanding, Atwal clearly is not low on confidence.
Asked what could be the winning score here, he replied, "Hopefully, it's mine."
Meanwhile, world No 4 Ernie Els, who carded a 70 today to make the cut, said Thursday's quadruple bogey nine on the par-five 18th still rankled him.
"Just that one hole yesterday and it could have been a little bit different," he rued.
Though languishing at tied 44th, 'The Big Easy' hinted he was plotting an assault.
"I was trying to get it back to even. I'm one-over now so I'll try to get something going in the morning (tomorrow). If I can somehow get to something like six-under, I might have a chance on Sunday," he said.
Despite the course being not too benign to him, Els retained his love for the DGC.
"It is such a great course because if you are off here, you are going to find out about it. I like that kind of golf.
"I have not been too patient so far but hopefully I can be a bit more patient over the weekend," the South African said.