Ace Indian long jumper Anju B George's family members have not slept for the past two days.
Ever since the news that Anju achieved the impossible on Saturday night -- a bronze medal at the World Athletics Championships in Paris -- a constant stream of bouquets have been reaching her home.
And Anju's father-in-law George Joseph, settled in Kannur and her mother in Changanassery in central Kerala have been getting incessant telephone calls, from ministers, sports lovers, relatives and friends.
| | |
| --- | --- |
| | Also Read |
| | |
"We are thrilled and overjoyed. Anju's bronze medal is the beginning of a great time for Indian athletes," Anju's father-in-law Joseph, an advocate, told
rediff.com
Joseph first knew of the unique feat of his daughter-in-law after his son Bobby George, himself a triple jump champion, called him from Paris.

"He was screaming with happiness when he told me that Anju has done it. Bobby has been more than a husband to Anju. He has been her coach, friend and great supporter ever since their marriage in 2000," Joseph said.
"This is a moment we have been waiting for and silently praying for. I am happy that like my late son Jimmy George, my daughter-in-law is bringing fame and pride to India," Joseph said.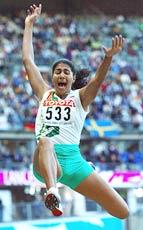 Jimmy George was a volleyball player who died in a car accident in Europe in the late 1980s.

"The death of my son was a huge emotional loss to me. My sons have always made me proud with their sporting talents. I am now happy that my daughter-in-law has done the brilliant performance that is the best ever in the history of India athletics," Joseph said.
Jimmy George was one of the seven sons of Joseph, who brought up them to be exceptional volleyball players. Joseph's home in Peravoor in Kannur district is famous for the volleyball court he built in his courtyard. When his seven sons grew up, Joseph wanted to build a team of volleyball players, all made out of his sons.
"It was in fact India's best kept sporting secret -- that a team of volleyball players from a family that Joseph created. But the unfortunate death of Jimmy George ruined the great sporting ambition to a certain extent," says Joseph's neighbour K P Kuriakose.
Anju, daughter of sports loving parents, Gracy and K T Markose of Changanassery in Kottayam district, took to athletics at a tender age when she was in school.

"She had this fascination for sports and we always supported her to pursue the career she wanted," says Anju's mother Gracy.
"I have been going to the church and praying every day for the victory of Anju. I am happy that God has heard my prayers," Gracy told rediff.com over telephone.
Anju's father Markose has been to Delhi to receive the Arjuna award that she was gifted this year. "He will back tomorrow. I have spent the whole day and night answering the congratulatory telephone calls," Gracy says.
Among the callers was Chief Minister A K Antony. "Anju has made India and Kerala proud. Let her achievement be an inspiration for scaling greater heights in the coming days," he said.
Gracy says Anju has wrested the great athletic honour now, thanks to the overwhelming support from husband Bobby George. "He has been her coach, training and supporting her all through. We are happy that our daughter has done India proud. She wept in joy when she talked to me," Gracy adds.
The proud mother hoped that the current record medal for Anju would considerably boost her chance to win a medal in the 2004 Athens Olympics. Anju these days undergoes training under Mike Powell of the United States.