Vikas Krishan became the second Indian boxer to book a pre-quarterfinal berth at the Asian Games after the teenager beat Thailand's Saylom Ardee in his opening round bout in the men's 60-kg category, in Gaungzhou, on Wednesday.
Vikas, reigning world youth champion and a bronze medallist of the inaugural Youth Olympics this year, won 8-1 against Ardee in his first bout at a senior international event.
Vikas, 18, joined Suranjoy Singh (52kg), who won on Tuesday, in the pre-quarters.
The lanky Haryana-lad, with a water-tight defence, fought from long range and never really allowed his rival to get so close as to strike a scoring blow.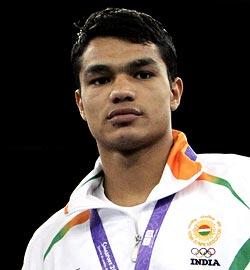 The Indian led 3-0 in the opening round and built on the lead with his trademark combination punches, the most prominent being jabs which he used to telling effect against Ardee.
"It was my first major international event at the senior level but I was not at all nervous because nerves can affect your game. I took it as just another bout and fought freely," Vikas said.
"I maintained a distance from Ardee because the only time I tried striking from close range, I ended up conceding a point," he added.
Vikas, who became a national champion on debut at the senior level four months ago, will now be up against Turkmenistan's Amangeldi Hudaybergenov in the last-16 stage.
"It is going to be a tough one but hopefully, I will pull it off," Vikas said.
Later in the day, Olympic and World Championship bronze-medallist Vijender Singh (75kg) will open his campaign against Yu Ting Yang of Chinese Taipei.