Rowers fetch two silver
India on Thursday won two unexpected medals in rowing with the men's four and lightweight four teams bagging a silver each in the Asian Games at Guangzhou.
The men's four team of Anil Kumar, Saji Thomas, Ranjit Singh and Jenil Krishnan won silver, completing the distance of 2000m in 6:16.79, behind China (6:06.40). Uzbekistan won bronze with a timing of 6:22.70.
In the men's lightweight four event final, the Indian quartet of Lokesh Kumar, Manjeet Singh, Rajesh Kumar Yadav and Satish Joshi finished second with a timing of 6:13.32, behind Japan who clocked 6:10.14.
Hong Kong won the bronze, clocking 6:14.84.
Vijay Kumar wins bronze in 25m centre fire pistol
Vijay Kumar notched up his second and India's fifth medal in shooting by bagging a bronze in men's 25m center fire pistol at Guangzhou on Thursday.
Vijay shot 583 (290+293) to finish third behind South Korea's Park Byung Taek who scored 586 (290+296) and Liu Yadong of China who fired 585 (290+295).
The other two Indians in fray in the same event, Omkar Singh and Harpreet Singh finished eighth and 32nd respectively with scores of 580 and 563.
The trio of Vijay, Omkar and Harpreet shot 1726, 17 points adrift of gold winners China.
Meanwhile, ace marksman Gagan Narang missed out on a bronze in 50m rifle 3 positions by 0.5 points to Qinan Zhu of China.
Narang finished the event with 1261.8 points, 0.5 points behind bronze medal winner Qinan, who also pipped the Indian to win the 10m air rifle individual gold earlier in the Games.
Squash teams make quarters
The Indian squash teams got off to a good start with both the men's and the women's team progressing to the quarter-finals of the squash singles event at the Town Gymnasium, in Guangzhou on Thursday.
Doha Asian Games bronze medallist Saurav Ghosal made short work of Ammar Altemimi from Kuwait, registering a facile 11-4, 11-4, 11-5 victory over his lesser-known opponent in just 32 minutes.
In the second game, Siddharth Suchde came back from a game down to script a morale-boosting 9-11, 11-4, 11-6, 11-4 win over Hong Kong's Wai Siu Lau in more than an hour long contest to move into the next round.
In the women's event, Dipika Pallikal scored a comfortable 3-0 (11-4, 12-10, 11-1) victory over Gu Jinyue of China in just 23 minutes, while national champion Joshna Chinappa blew away Aribado Jemyca of Philippines 11-6, 11-7, 11-4 in 19 minutes.
Golfer Rashid tied third after Day 2
Indian golfer Rashid Khan brought home an improved card of four-under 68 to lie tied third after the second round of the individual golf competition at the Asian Games in Guangzhou on Thursday.
Rashid sank as many as seven birdies against three bogeys to take his two-day total to five-under 139, three strokes behind the leader Luis Miguel Tabuena of Philippines.
Korean Whee Meen Kim (68) was placed second with a total of seven-under 137.
Abhinav Lohan, who carded two-under 70, was the second-best Indian at tied 12th with a total of one-over 145.
Rahul Bajaj was static at tied 45 after carding seven-over 79 at 16-over 160.
Abhijit Singh Chadha, who was disqualified on Wednesday, carded one-under 71 to lie at the bottom of the heap.
In the women's individual competition, Shreya Ghei and Vani Sanjeev Kapoor carded nine-over 81 and seven-over 79 respectively to lie tied 22nd with a total of 17-over 161.
One stroke behind was Gurbani Singh who turned in a card of eight-over 80.
In the team competition, the trio were at the ninth place with a total of 33-over 321.
Samota assured of medal, Suranjoy advances
Paramjeet Samota assured India of a medal after punching his way into the semi-finals of the super heavyweight category while Suranjoy Singh survived a tense bout to book a berth in the quarters (flyweight) in the boxing competition at the Asian Games in Guangzhou on Thursday.
Samota, who got a first round bye in the nine-boxer +91kg competition, led 5-2 at the end of the first round against his South Korean opponent Park Sungkeun. Sungkeun was outplayed and after another flurry of punches from the Indian, who was leading at 9-4, the referee stopped the contest midway into the second round and Samota was declared winner.
Suranjoy, on the other hand, had to earn every point against Kim Juseong of South Korea after registering an easy win in the opening round of the 52kg category on Tuesday.
The pint-sized Indian found it tough to score points and had to negotiate the desperate onslaught from his opponent in the last round before sealing the bout 8-6.
Dismal day for Indian shuttlers
Indian shuttlers had a dismal day on Thursday as men's singles player Aravind Bhat and the mixed doubles pair of Jwala Gutta and V Diju crashed out of the badminton competition at Guangzhou.
Bhat lost 19-21, 12-21 to world number sixth Boonsak Ponsana of Thailand in his second round encounter at the Tianhe Gymnasium.
Jwala and Diju squandered a first game advantage to lose a gruelling battle against Koreans Baekcheol Shin and Hyojung Lee in the mixed doubles event.
The Indian pair lost 21-17, 13-21, 16-21 against the Korean combination in a 36-minute match. Saina Nehwal, who will take on Hong Kong's Yip Pui Yin in the quarter-finals, is the only Indian left in the badminton competition.
Indian challenge ends in Table Tennis
India's campaign in table tennis competitions in the Asian Games came to a disappointing end on Thursday with star paddler Achanta Sharath Kamal and Anthony Amalraj bowing out in the pre-quarterfinals of the men's singles event at the Guangzhou Gymnasium.
Sharath went down 9-11, 4-11, 7-11, 10-12, 11-6 to Korea's Sang Eun, while Amalraj was outplayed by Chinese Taipei's Chih Yuan Chuang who thrashed the Indian 6-11, 10-12 5-11, 1-11 in just 18 minutes.
Earlier in the day, lone Indian survivor in the women's singles, Shamini Kumaresan too made an exit but not before giving a tough fight to Sayaka Hirano of Japan 7-11, 5-11, 11-7, 7-11, 11-7, 7-11 in the second round.
Later, the pair of Sharath and Subhajit Saha too could not cross the last 16 hurdle as they were spanked 0-3 by Korean combination of Jungwoo Lee and Sang Eun Oh in just 15 minutes to sail into the quarter-finals.
Sixth-place finish for men's 4x100m relay team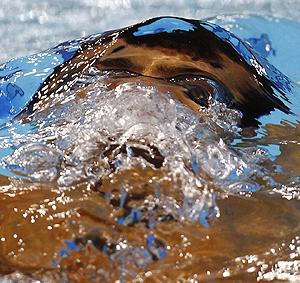 A second medal eluded India in the swimming competitions as its men's 4x100m medley relay team finished a disappointing sixth in the finals at the Asian Games in Guangzhou on Thursday.
The quartet of Rehan Poncha, Sandeep Sejwal, M Badrinath (who replaced Virdhawal Khade in the finals) and Aaron D'Souza clocked 3:52.97s.
Earlier, Poncha, Sejwal, Virdhawal Khade and D'Souza finished sixth, clocking 3:49.38s, in the heats to qualify for the final.
It was disappointment for India in the individual events on the day as Mandar Anandrao Divase (1500m freestyle), M Badrinath (50m backstroke) and Sandeep Sejwal (200m breaststroke) failed to make the final cut.
Indians crash out of taekwondo quarters
After initial sparks, India endured a dismal day in taekwondo competitions with as many as four players -- two men and as many women -- crashing out in the quarter-finals of their respective weight categories, in Guangzhou on Thursday.
While Latika Bhandari and Y Shantibala Devi bowed out in the quarter-finals of women's 53kg and 57kg respectively, P Anand and Sandeep Kundu too were shown the door in the last eight stage of the men's 80kg and 87kg.
Both Latika and Shantibala went down tamely 0-6 and 0-13 to Sarita Phongsri of Thailand and Yuzhuo Hou of China.
The Indian men were no different as P Anand lost 3-5 to Nabil Hassan of Jordan while Sundeep Kundu was spanked 4-18 by Uzbek fighter Akmal Irgashev.
Indian women lose volleyball opener
Indian women suffered a 0-3 drubbing at the hands of North Korea in their opening match of the volleyball competition in Guangzhou on Thursday.
India lost 23-25, 13-25, 20-25 in their Group B match which lasted one hour and six minutes.
For India, Abraham Minimol scored the maximum of 14 points, followed by K Reshma and Priyanka Bora with six.
Indians fail to make a mark in Sepaktakraw
India's campaign ended in the sepaktakraw event with both the men's and women's team losing their third consecutive group matches at Haizhu sports centre in Guangzhou on Thursday.
After losing the last two days encounters in both men's and women's categories, India again failed to manage a win on Thursday and remained winless in the entire event.
First the men's team was blanked 0-3 by Malaysia in their Group B match, then the Indian eves suffered a 0-3 loss at the hands of Thailand in their pool games.