After the unexpectedly strong display at the 2010 Commonwealth Games, in which they garnered 12 medals, Indian track and field exponents would aim to prove that it was no flash-in-the-pan effort when they open their campaign in the Asian Games athletics events starting in Guangzhou, on Sunday.
With the shooters, who picked up 30 medals at the Delhi Games including 12 golds, coming a cropper in these Games and returning with their tails tucked firmly between their legs, the pressure is on the athletics contingent, numbering 71 including 31 women, to salvage the country's pride that has taken a beating in these Games.
The huge athletics squad may be unwarranted going by the numbers, but a sizeable chunk is to make up the numbers for the four relay events in which the country's track and field selectors traditionally lay stress on.
All those who attained the medal podium, including star discus thrower Krishna Poonia who led an unforgettable clean sweep of all the medals by India in the Delhi CWG, have come here to try and prove their worth at these Games.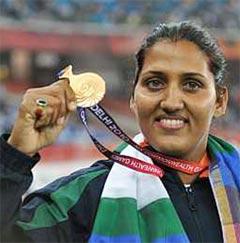 Traditionally in most track events, the CWG field is of higher quality while in the Asiads the field events are very tough with the Chinese, Koreans, Iranians, Japanese, Saudi Arabians and the former Soviet bloc countries which are now part of the Asian Games family -- like Kazakhstan.
For example in women's triple jump, in which the Indian entrants are M Prajusha -- who won a long jump silver in the CWG -- and Mayookha Johny, the title-favourite is world no. 1 Olga Rypakova of Kazakhstan.
Prajusha and Mayookha, who finished outside the medal bracket in CWG, are expected to face a tough time in the jump events in which the former Soviet bloc nation has a fleet of top women competitors, including Yulia Tarasova of Uzbekistan who took part in the Asian All Stars meet in Delhi in July.
The women's long jump, a straight final, is on November 23 while the triple jump is scheduled two days later, also a straight medal contest.
In the throwing events for women, a strong battle is expected to materialise between Poonia, compatriots Harwant Kaur and Seema Antil, who took the discus silver and bronze behind her in Delhi, and Song Aimin and Li Yenfeng of China.
The event is scheduled on the third day of the premier discipline, November 23.
Renjith Maheswary, a triple jump bronze winner in Delhi's CWG, will have Li Yanxi of China and Roman Valiev of Kazakhstan to contend with in the straight final on November 26th.
Tintu Luka, groomed by former Asian track queen P T Usha, is a strong contender for a medal in the women's 800m along with women's world 1,500m champion Maryam Jamal of Bahrain which has come with a strong crop of middle distance men and women runners.
Tintu disappointed in CWG, belying the country's hope for a medal, but she and senior compatriot Sinimol Paulose are the bright Indian hopes in the women's two-lap race.
India's chief coach Bahadur Singh is hopeful of hauling in close to the number of medals that India secured in the CWG.
"We should get as many as we got in the CWG. Tintu Luka will perform very well," he said.
Bahadur, a former shot put legend at the Asian level, also has high hopes for his successor Om Prakash, the Asian champion who was throwing close to 20m this year before coming a cropper in the CWG.
"There is Om Prakash, Prajusha, Kavira Raut (CWG 10,000 m women's bronze winner) and others like Preeja Sreedharan who can perform well," he said.
On the first day on Sunday, Indian athletes would be in action in nine events, including men's 20km race walker Harminder Singh (bronze winner in CWG) who will be competing for the first gold in the athletics event along with eight others. The other Indian in the fray is Baljinder Singh.
There are two Chinese, as many Koreans and Japanese walkers who have better personal bests in the event than the two Indians.
Also to be seen on the first day are men's high jumper NC Chittarasu and Hari Shankar Roy, men's sprinter Mohammed Abdul Najeeb and K Satish Rane, men's 400m runners Mortaja Shake and Bibin Mathew, Sunil Kumar (men's 5000m), H M Jyothi (women's 100m), Manjeet Kaur, Mandeep Kaur (women's 400m), Kavita Raut (women's 10,000m) and Puthiya Orchatteri (women's 3000m Steeplechase which has only six competitors and a straight final).
In the sprints, both men and women, Japanese runners are expected to dominate and are favoured to win the men's 100 and 200m as well as both 40m hurdles races.
The showpiece event, the men's 100m sprint, would see Asian record holder Samuel Francis of Qatar, top Japanese sprinter Eriguchi Masashi and China's Lao Yi fighting for the top honours.
In the last Asian championship at this city, China won 18 gold to Japan's 12.