Hurdlers Ashwini Chidananda and Joseph Abraham stole the limelight with gold medals while the Indian men's hockey team and talented middle distance runner Tintu Luka bagged the bronze as India added four more medals to their kitty on the 13th day of competitions at the 16th Asian Games in Guangzhou, on Thursday.
Mausam Khatri also had his moment of glory by winning the bronze in men's 96kg freestyle wrestling event to make amends for the otherwise disappointing show by his colleagues on the mat.
With the addition of five more medals, India's medal haul climbed to nine gold, 13 silver and 29 bronze on an eventful day which saw the men's and women's kabaddi teams keeping themselves on course for the coveted gold.
Ashwini took centre stage as she snatched the gold in the women's 400 m hurdles with a timing of 56.15 to give India their eighth gold medal in the Games.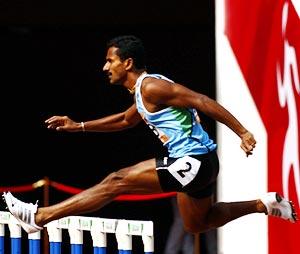 Joseph Abraham boosted the gold medal tally further when he won the men's 400m hurdles event with a timing of 49.96sec.
The 29-year-old Indian's effort was, however, still short of the national record of 49.51sec he set during the 2007 World Championships in Osaka.
The silver went to Saudi Arabia's Bandar Yahya Sharahili, who clocked 50.29sec. Japan's Naohiro Kawakita settled for the bronze medal with a timing of 50.37sec.
Young Tintu Luka won the bronze medal in 800 metres event but team-mate Sinimole Paulose finished a disappointing seventh. Luka, a protegee of former sprint champion PT Usha, clocked 2:01.36 while Paulose timed 2:06.95. 
Luka led the pack right from the start, but couldn't keep pace in the last 50 metres. 
The Indian men's hockey team lifted itself from the disappointment of missing a final berth and clinched the bronze medal after defeating four-time champions South Korea in the third-place playoff. 
India beat the 2002 and 2006 champions with a lone second half goal through Tushar Khandekar to end their campaign on a better note than four years ago in Doha where they ended up a poor fifth. 
Having their dreams of winning the gold destroyed by the 3-4 defeat against Malaysia in the semi-finals, the Rajpal Singh-led side outsmarted the fitter and faster Koreans.     
By virtue of this bronze, India ended their eight year-long medal drought in the quadrennial event after having finished on the podium (silver) last in the 2002 Busan Games. 
India's win also ended double defending champions South Korea's honeymoon in Asian Games hockey. This is the first instance since the 1986 Seoul Games that they finished without a medal.