Athletics South Africa (ASA) has issued a formal apology to women's 800 metres world champion Caster Semenya for their handling of her gender verification tests.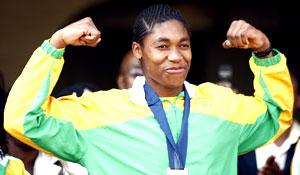 "Athletics South Africa wishes to publicly and unconditionally apologise to Caster Semenya and her family, the president of South Africa as well as to all South Africans for the handling of her gender verification processes and the subsequent aftermath," ASA said in a statement on Thursday.
"ASA's board will lead a delegation to meet with Caster, her family and government for discussions on the matter," it added.
The apology comes in the wake of an African National Congress (ANC) statement last month which said they thought the ASA and its doctor had a case to answer.
"They could have handled the matter better. They could have taken the leadership of the country into confidence and avoided lying with regard to their role in this saga," the ANC said.
Semenya, 18, destroyed the field to take the world title in Berlin in August in the fastest time of the year.
The International Association of Athletics Federations (IAAF) had already begun a gender verification process prior to the race but Semenya was allowed to compete pending the outcome of the tests.
No decision on the tests is expected until later this month but the IAAF has declined to comment on a report in Australia's Daily Telegraph newspaper in September which said Semenya had both male and female sexual characteristics.
The IAAF's decision to test Semenya angered many South Africans with some accusing the sport's governing body of racism, saying her broad shoulders and striking musculature were common in women's athletics.
It was subsequently disclosed that ASA conducted gender verification tests on Semenya in South Africa before she competed in Berlin. ASA President Leonard Chuene admitted lying about the tests, saying he had wanted to protect the athlete's privacy.