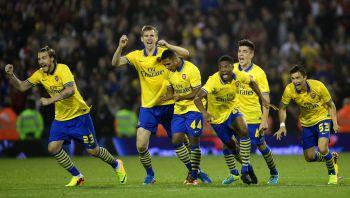 Arsenal will reportedly play Chelsea in a fourth-round Capital One Cup match after winning 4-3 on penalties against West Bromwich Albion on Wednesday at The Hawthorns.
According to the BBC, penalty misses from West Brom players Craig Dawson and Morgan Amalfitano helped move the tie toward Arsenal, following which the decisive score by Arsenal full-back Nacho Monreal confirmed the win for the visitors.
Before the penalty, Arsenal was drawn 1-1 with West Brom, with Thomas Eisfeld and Saido Berahino scoring for Arsenal and the hosts respectively.
The report mentioned that Arsenal would play Chelsea on October 28 and bring boss Arsene Wenger back into opposition with new Chelsea boss Jose Mourinho for the first time since Mourinho's return to England from Real Madrid.
Stating that he is proud of the players, Wenger said that the players showed that they could fight as well as being good footballers, adding that although the penalties were a bit of a lottery, he had decided to put young players during the penalty kicks and they coped well with the pressure.
Draw (Premier League unless stated):
Sunderland v Southampton
Leicester City (II) v Fulham
Birmingham City (II) v Stoke City
Manchester United v Norwich City
Burnley (II) v West Ham United
Arsenal v Chelsea
Tottenham Hotspur v Hull City
Newcastle United v Manchester City
Image: Arsenal players celebrate after winning the match
Photograph: Jamie McDonald/Getty Images