India's Anju Bobby George won the long jump event in the Seiko Super track and field meeting on Thursday defeating German twice former Olympic champion Heike Drechsler.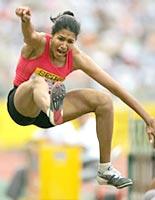 Anju cleared 6.61 metres to win on a day when the 39-year-old Drechsler bade farewell to athletics along with Namibian sprinter Frank Fredericks and high jumper Inha Babakova of Ukraine. Dreschler finished fifth.
Former world champion Babakova, 37, was second to Russia's Olympic champion Yelena Slesarenko in her event.
Olympic 100 metres champion Justin Gatlin justified his status as the world's best sprinter with a comprehensive victory clocking 9.97 seconds to finish well ahead of compatriot Leonard Scott (10.14) at the International Stadium.
Olympic bronze medallist Maurice Greene could only manage fifth behind Japan's Nobuharu Asahara and retiring Fredericks.
"I was probably the slowest starter in the whole race but it's the last race of the season and I knew I had to go out there and do it on the track," said Gatlin.
Greene, the 2000 Olympic champion, blamed jet lag and a false start for his poor run but said he was confident of
regaining his number one status next year.
Gatlin also praised the contribution of 36-year-old Fredericks, the twice former Olympic silver medallist over 100m. "Frank Fredericks is one of the foundations of track and field," he said. "Being in his last race was an honour for me."
For most of the 49,810 fans the highlight was welcoming Japan's hammer thrower Koji Murofushi home as Olympic gold medallist.
The Japanese was awarded the gold medal from Athens following the disqualification of Hungary's Adrian Annus for drug-test violations.
Murofushi did not disappoint, unleashing a series of throws over 80m, with a winning effort of 83.15.
After the last event of the day, Murofushi was given a presentation ceremony for his Olympic gold medal, including the Olympic wreath, raising the flag and playing Japan's national anthem.
"Now I feel the Athens Olympics are finally over for me," he said. "I'm really quite relieved."
China's Olympic sprint hurdles champion Liu Xiang won his duel with American Allen Johnson, who failed to qualify for the Athens final after falling.
Liu sprinted home in 13.13 seconds, ahead of Maurice Wignall (13.33) of Jamaica and Johnson (13.41).