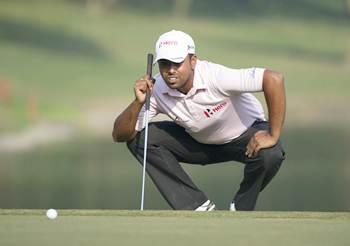 India's Anirban Lahiri was kicking himself after a sloppy finish as he settled for a one-under-par 70 in the second round of the US $8 million ISPS HANDA World Cup of Golf on Friday.
The three-time Asian Tour winner was three under for his round before dropping bogeys on 16 and 17 at the treacherous Royal Melbourne Golf Club, as his two-day total of level par 142 saw him end the day in tied 15th place, eight shots behind leader Thomas Bjorn of Denmark.
"A little disappointed with how I finished with two bogeys in the end. I think I played better than my score," said Lahiri, who is making his debut at the World Cup with countryman Gaganjeet Bhullar, who carded a 77.
"It was pretty good all round. I think I played much better than yesterday. I hit it quite good starting out, made some putts but didn't finish well. Even par is not a bad place to be going into the weekend."
His second week at Royal Melbourne after last week's missed cut outing at the Australian Masters is proving to be a good learning curve for one of Asia's young rising stars. He knows now that patience is everything at Royal Melbourne as he seeks to move up the leaderboard over the weekend.
"If you lose your concentration a little bit, the course can get you. I got a bit lucky on some holes. Couple of occasions today, I got lucky. One foot either side, I would have made a bogey and I made a birdie once.
"Similarly, when I was coming in, just a foot to the left or right, I would have made par. So you win some and you miss some," said Lahiri, who carded four birdies against three bogeys.
"It's one of those courses where you have to keep grinding it out. If you're on a hot run, you want to keep the momentum. After last week, I'm quite happy with how I have played. I just like to finish the next two rounds under par. I'll be pretty happy," said Lahiri.
"I was talking to my caddie and telling him that if I've not come last week, I would have definitely given two or three shots today and two yesterday. It's made a big difference around the greens and knowing what you need to do. That's where the challenge is.
"If I can stay in the red, I would have done well. It's just a matter of staying consistent out here," added the Indian.
Image: Anirban Lahiri
Photograph: Asian Tour News