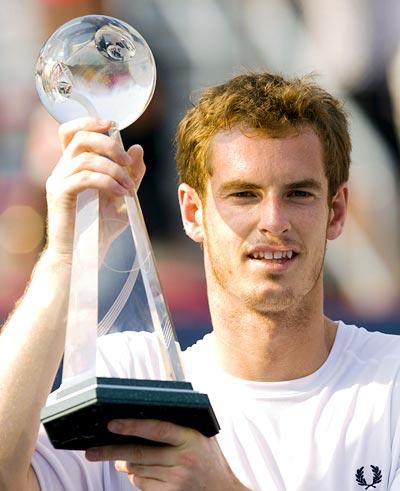 Briton Andy Murray overcame sweltering heat to beat Argentine Juan Martin del Potro 6-7, 7-6, 6-1 in the Montreal Masters final on Sunday.
A day after replacing Rafael Nadal as world number two, Murray delivered a gritty performance to wear down the towering Argentine in two hours, 42 minutes.
It was Murray's fifth win of the season and he become the first Briton in 128 years to lift the Canadian title.
The victory completed a perfect start to the North American hardcourt season for the 22-year-old Scotsman, who was returning to action after his semi-final loss to Andy Roddick at Wimbledon.
"I love winning tournaments and every player will tell you the same thing but I have never been to number two in the world before," Murray told reporters. "It's something I've never done, that's new to me.
"I've won a couple of Masters events and it still feels great but being [number two] maybe means a little bit more than winning a tournament this week."
Del Potro, coming off victory in Washington last week and riding a 10-match winning steak, took a tight opening set in a tiebreak 7-4 -- the only set surrendered by Murray all week.
But Murray, who spent two weeks in Florida training for the severe conditions he faced in Montreal, did not buckle under Del Potro's thundering groundstrokes, getting back on level terms after clinching the second set with a 7-3 tiebreak.
Leading 6-5 in the second with Murray about to serve, Del Potro called a medical timeout to have his back massaged drawing an angry scowl from the unhappy Briton, who protested the move slamming his towel on a chair.
TIME-OUT
The time-out, however, appeared to ignite Murray who went on to win 36 of the next 48 points.
The sixth-seeded Argentine, playing his ninth match in 13 days, had nothing left to give in the third set as Murray moved in for the kill, recording two early breaks to go 4-0 up before finishing the contest with an emphatic ace.
"Before the match I felt I was going to be physically stronger," said Murray. "He's played a lot of matches. At the start of the second set it looked like he was tired...I felt he was struggling a bit."
Murray now moves on to the Masters Series event in Cincinnati where he will be confirmed as the new number two.