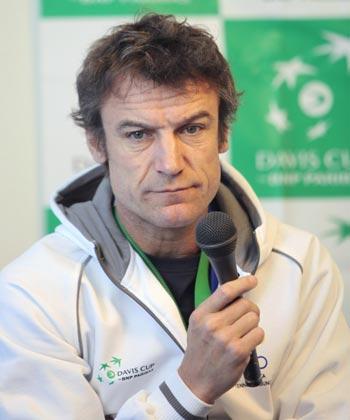 Tennis legend and former No.1 Mats Wilander has said that Andy Murray is 'not good enough' to win a Grand Slam title, after the British number one's hopes of winning the US Open were dashed in the third round.
Murray's chances of winning a Grand Slam title faded when he made a shock third-round exit at the US Open losing 6-7 (3/7), 7-6 (7/4), 6-3, 6-3 to Switzerland's Stanislas Wawrinka.
Wilander said Murray is still a couple of years away from fulfilling his potential.
Wilander believes Murray needs to attack his opponents' weaknesses to make it to the top.
"I'm not surprised he is yet to win a grand slam. He's not good enough to win one yet - at least what he's shown so far he's not good enough," he told The Telegraph.
"He is improving but he's not anywhere near to being the finished product and he's not anywhere close to being as good as he can and will become," Wilander added.
Wilander, who won the US Open in 1988, said Murray has most of the attributes to succeed but that the 23 year-old needs to become more of an opportunist player and seize the moment.
Don't know, but 'll give it my best shot: Murray
Meanwhile, Murray himself admits that though he doesn't know if he will ever win a Grand Slam title, he would still work hard for it.
"If I give 100 per cent, try my best, physically work as hard as I can, practise as much as I can, then that's all I can do," The Independent quoted Murray, as saying.
"I don't know if I'll win a Grand Slam or not, but I'll give it my best shot," he added.