Tennis legend Andre Agassi showed a 'nude' picture of his wife Steffi Graf on his mobile phone to the winning bidder at a charity auction in Taiwan.
The Grand Slam winner said that he would show the picture to whoever was willing to shell out US $4000, reports the Sun.
"You pay more than 4,000 dollars and I will show you a picture of my wife on my phone, naked," he told the guests at the fund-raiser.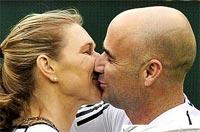 The offer drew laughter and applause.
The bidder let out an audible 'Wow!' when Agassi showed him the photo on his phone.
It is not clear whether the picture actually was of fellow tennis great Graf or whether she knows of her husband's action.
Agassi, 40, and Steffi, 41, have been married nine years and live in Las Vegas with their two children.