Five-time world champion Viswanathan Anand continued to struggle with form and had to be content with a fifth-place finish after a poor show in the rapid section of the Zurich Chess Challenge that concluded in Zurich on Tuesday.
Staying joint fourth spot on four points after the Classical games, Anand could manage just one point out of a possible five in the rapid section that has always been his forte and finished with an overall score of just five points out of a possible 10 in the six-player event.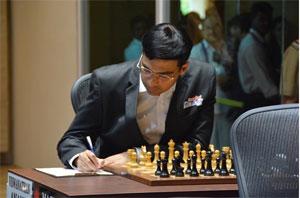 World champion Magnus Carlsen got a scare but still managed a clear first place on 10 points by scoring just two points in the rapid section that was dominated by Fabiano Caruana of Italy.
Carlsen ended the tournament with 10 points in all, a point ahead of Caruana and Levon Aronian of Armenia.
Hikaru Nakamura of United States also came up with a decent show in the rapid to finish clear fourth on 7.5 points while Anand ended fifth, half a point ahead of his former world championship challenger Boris Gelfand of Israel.
The rapid round turned out to be worse for Anand than the Classical games wherein the Indian had started with two losses.
In rapid, Anand lost the first three games against Aronian, Nakamura and Caruana to end hopes of finishing in the first half. In the last two games, the former world champion played out draws with Gelfand and Carlsen.
Anand was beaten by Aronian in the first round of rapid in 44 moves after losing a rook for a minor piece earlier.
Against Nakamura, he simply blundered a piece in the opening to go down rather tamely and against Caruana it was a long grind wherein Anand missed his chances in the queen and knight endgame.
Interestingly, the game against Carlsen was an exact replica of the eighth game of the last world championship till move 29. The draw was inevitable thereafter.
Carlsen too was not at his best as he lost to Aronian and Caruana in the rapid games. However, a victory against Gelfand and draws with Nakamura and Anand were enough to stay clear of the field.
The 23-year-old Carlsen did not show the rustiness that was expected post a break after the world championship triumph in November last in the Classical games and his score there was enough to help secure first place in his first tournament as the world champion.
The loss to Caruana in the final classical game proved costly for Aronian as he missed out on a clear second spot. In the rapid Aronian scored three points in all.
Nakamura's 3.5 points out of last five did not help his cause as he still could finish only fourth. However, with the form coming back, the American can look up to coming events positively now.
For Anand, it will be a test of time ahead of the Candidates tournament to be held in Khanty Mansiysk, Russia in mid-March. In what is expected to be his bid for the world championship match against Carlsen, the Indian will have to recover very quickly from the results here.
Results rapid round 1:
V Anand (Ind) lost to Levon Aronian (Arm); Boris Gelfand (Isr) lost to Magnus Carlsen (Nor); Fabiano Caruana (Ita) beat Hikaru Nakamura (Usa).
Round 2: Aronian beat Carlsen; Nakamura beat Anand; Gelfand drew with Caruana.
Round 3: Anand lost to Caruana; Carlsen drew with Nakamura; Gelfand drew with Aronian.
Round 4: Anand drew with Gelfand; Caruana beat Carlsen; Nakamura beat Aronian.
Round 5: Carlsen drew with Anand; Aronian drew with Caruana; Gelfand lost to Nakamura.
Final standings Classical (Two points for a win, one for a draw):
1. Carlsen 8; 2. Aronian 6; 3. Caruana 5; 4-5. Anand, Nakamura 4 each; 6. Gelfand 3.
Final Standings rapid (One point for a win, half for a draw): 1. Caruana 4; 2. Nakamura 3.5; 3. Aronian 3; 4. Carlsen 2; 5. Gelfand 1.5; 6. Anand 1.
Combined standings: 1. Carlsen 10; 2-3. Caruana, Aronian 9 each; 4. Nakamura 7.5; 5. Anand 5; 6. Gelfand 4.5.
Image: Viswanathan Anand
Photograph: FIDE World Chess Championship