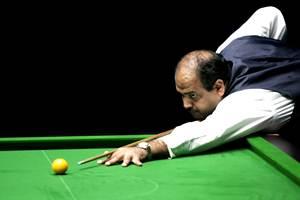 It was a case of so near yet so far for veteran Indian cueists Alok Kumar and Ashok Shandilya. Both fell just before the final hurdle in the World Billiards Championship in Leeds.
India's campaign in the tournament ended with Kumar and Shandilya losing their respective semi-final matches in the 'Long up' format on Wednesday night at the Northern Snooker Centre.
After winning the World Championship 150-up format last week, England's David Causier overcame a weighty challenge from Shandilya 1250-710 in the first semi-final, while Peter Gilchrist knocked out Alok 1250-916 in the other semi-final.
In the 1250-up format semi-final, Alok maintained a lead of more than 100 points till the 900 mark but after that Gilchrist showed his class by producing three consecutive breaks of 112, 265 and unfinished 135 to win by 334 points.
In the other semi-final, Causier produced showers of breaks and maintained a substantial lead throughout the match. Whenever Shandilya tried to narrow down the lead, Causier stood up and produced another good break to keep pushing his opponent and win by a margin of 440 points.
Earlier, Points Format finalist Alok defeated Nalin Patel of England 1000-490, while Shandilya got the better of compatriot Sourav Kothari 1000-989 in the quarter-finals.
From the traditional time format, this year's championship saw the introduction of 'Long up' format with 400 points in the league stages, 500 in the round of 32, 750 in the last 16 and 1000 for the quarters.
Image: Ashok Shandilya