A haul of 12 major titles in a career spanning almost two decades is something that would earn a player plaudits from his compatriots.
For Mahesh Bhupathi -- and his doubles partner Rohan Bopanna -- it earned a two-year ban, the All India Tennis Association (AITA) having barred them from representing India in the Davis Cup until mid-2014 on grounds of indiscipline.
In the twilight of his career, Bhupathi is palpably miffed with the authorities for going to the extent of labeling him a 'traitor' and plans to take the legal route.
Speaking exclusively with Bikash Mohapatra, the 38-year-old opens up on the many issues that plagued Indian tennis the last few months.
Regarding this whole fiasco, how much do you think is about tennis? How much is it about your equation with the AITA, in general?
The whole fiasco is a culmination of the fact that the All India Tennis Association (AITA) hasn't communicated with the players regarding what was the criteria for the selection to the Olympics.
- Bhupathi slams AITA's 'dictatorial attitude'
In March, we, me and Rohan Bopanna, wrote a letter to Anil Khanna (AITA president) and told him why we came in together, explained to him what happened in November 2011, and how we are training and what kind of team we had put together to qualify for the Olympics.
He said in his response that he would talk to us and take our inputs before making a decision. However, two weeks before the deadline a decision was announced unilaterally without speaking to us.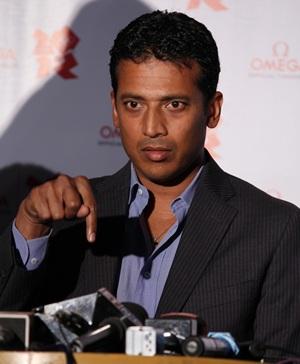 These kinds of issues have surfaced earlier as well in Indian tennis, when you were involved. Was there any effort made, at any time, to ensure such things won't happen again?
Yes, ahead of the 2008 Olympics we had the same issues. Leander (Paes) didn't want to play tournaments together to prepare for Beijing and I wanted to play with Rohan (Bopanna).
Anil Khanna flew to Paris and sat with both of us at a restaurant, on the sidelines of the French Open, and convinced us to play two tournaments to prepare.
And we did. We went and played in Holland and America and then we went to the Olympics. Back then, Khanna was proactive; he took the first step and ensured there was no ugliness.
This year, however, they sat back and made a mess of it.
With the Indian contingent going to the Games with so many issues off the court was it difficult to focus during practice, and the tournament per se?
I practiced with my partner everyday. Once we got to the Olympics we were all professional. We were, in any case, not going to wash our dirty linens there, the day before the match. So we were all practicing together and trying to give our best.
This wasn't the first time this had happened, so we just tried to put it behind us and focus on the Games.
Normally when this kind of stand-offs happen, the AITA goes into damage control mode. Why wasn't it the case on this occasion?
They have been trying to control the damage for the last two days. When I get up in the morning I see their e-mails saying they are retracting the ban and it is no disciplinary action.
- Bhupathi to partner Nestor before retiring in 2013
Today I got a mail that you guys are allowed a hearing. Obviously, they aren't allowed to ban simply because they don't have a disciplinary code of conduct. It doesn't make sense.
If you read one of the dailies, we have Bharat Oza, who was our secretary, is quoted as saying Somdev (Devvarman) wasn't fit and played in the US Open for only monetary reasons.
This is a head of the federation talking rubbish about our No.1 player. The AITA is either misinformed or delusional; they simply don't care about what the players think. They say and do whatever they feel like.
Was the pressure playing on your mind during the Olympics and the US Open?
At the Olympics, it was. In New York, it wasn't. We just played a bad match.
Do you think had you and Bopanna done well at the Games things would have been different?
No, I don't think these things would have happened. The country wouldn't have let them do this. However, it wasn't to be. In fact, a lot of people celebrated on the day we lost. It was frustrating.
Why has it taken you so long to open up? Why didn't you come out against the federation earlier?
I was doing my own work as much as I could. I kept quiet all the time because I was into a lot of things. Also, there was no point being a rebel as nothing was going to change. And these guys can be vindictive. Anil Khanna has always had a problem with me because I kept doing things that he should be doing. I had, in fact, suggested it to him that we should do things together. But he always wanted to have complete control.
Photograph: Hitesh Harisinghani