On the day India hit their lowest ever FIFA ranking, the country's soccer chief said he was eyeing a place at their first World Cup finals in Qatar 2022.
The country of 1.2 billion people dropped one place to 169th in the latest FIFA rankings released on Wednesday, behind Aruba, Nepal and Maldives.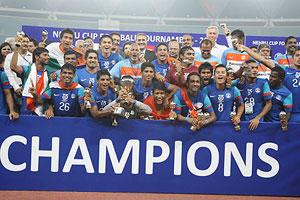 Sepp Blatter, the head of the world soccer's governing body, has called India a 'sleeping giant' but the country obsessed with all things cricket continues to slide into soccer mediocrity.
Indian soccer heads, though, believe there is cause for optimism.
"We have undertaken a 10-year development program. We are hopeful of qualifying for the World Cup by 2022," the All India Football Federation President Praful Patel told reporters on Wednesday.
"India should be one of the teams to play in Qatar. FIFA has gone out of its way to see that India emerges as a strong footballing nation."
After a bye, India were beaten 5-2 on aggregate by United Arab Emirates in the second round of Asian qualifying for the 2014 World Cup in Brazil last year.