On the eve of India's opener against Syria in the Nehru Cup, Indian National Team coach Wim Koevermans and captain Sunil Chhetri beamed with confidence and shrugged of any kind of pressure that tends to build on defending champions.
"I am really happy with the way things have gone so far. The boys have given their hundred percent in each and every training session and I feel that have a lot of potential," a smiling Koevermans quipped at the almost full Jaypee Greens Conference Hall on Tuesday.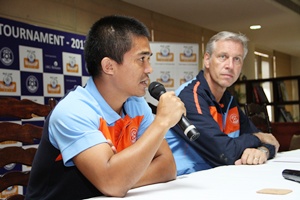 "I believe they can adapt to the desired style of play as it suits them very well. These guys are not very tall so I thought the pass and play style would suit them, and they are coping really well. I am extremely pleased," he added.
Skipper Sunil Chhetri said: "The most important thing for a player is to understand what the coach wants from him and the team at large. We as a team should respond to the coach and play as a cohesive unit. I feel that is the most important thing."
"I've been training with the team for the past one week and I can't wait for the tournament to begin. As far as this new style of play is concerned, all I would like to say is that the team is doing well and trying to adapt the style. It won't happen overnight. You have to give it time and I believe with time we will be able to achieve our goal."
Asked about their first opponent, Syria, whom they have got the better of in two previous finals, Chhetri said: "They are one of the more improved nations in Asia. All I know about them is that they are very good. But having said that, it's about us isn't it. We have to stick to the plan and play our game. Rest will be taken care of."
Chhetri signed off on the brightest note. "We have a new set of boys. A new plan and we are all ready for the challenge. We are not thinking about the past thus pressure is nit sinking in. We want to concentrate on the present and at the moment things look very good."
Photo Courtesy: AIFF