Last week boxer Manoj Kumar had slammed the selection criteria for national sports awards and further questions over the same were raised on Monday.
Former hurdler and Athletics Federation of India's selection panel head G S Randhawa has protested the Dronacharya award to be conferred on K P Thomas.
- Miffed at Arjuna snub, boxer Manoj seeks meeting with Sports Minister
In a letter to the Sports Ministry, Randhawa further questioned the Keralite's claims of mentoring stars like Anju Bobby George.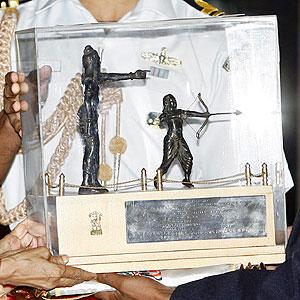 Himself a contender for the award this year, Randhawa said there are several instances where the "deserving ones are left waiting in the wings while the pushy type get away with the honours".
"...the Athletics fraternity in India is surprised rather shocked to learn that K.P. Thomas is selected to receive Dronacharya Award this year. There are many outstanding coaches in our country who have been denied the Dronacharya Award where as there are quite a few who devoid of merit but having "influential connections" have been able to get the award, in blatant violation of the existing rules," Randhawa, who finished fifth in the 110m hurdles event of the 1964 Tokyo Olympics, said.
"This year the Dronacharya Award will be given to a person who has never attended any National Coaching Camp or gone with the Indian athletes to take part in any major International Athletics Championships," he explained.
Questioning Thomas's credentials, Randhawa said his background and achievements should be throughly checked again.
"Shri K.P. Thomas has claimed that he had coached Anju Bobby George, Shiny Wilson and Jincy Phillip. Shri Bobby George has already been awarded Dronacharya Award for the athletic performance of Anju Bobby George; similarly Shri Hargobind Singh has been awarded Dronacharya Award for the athletic performance of Shiny Wilson," he asserted.
"Jincy Phillip for the past 17 years have been serving with the CRPF and has continuously trained at the national camps conducted by the AFI. Interestingly enough, Shri K.P. Thomas has never been considered by Athletics Federation of India to impart training at the national camps", Randhawa said.
"Hence, his claim of training the above mentioned three athletes needs to be scrutinised meticulously as it does not appear factual."
Randhawa said Thomas may have coached these athletes at the start of their careers.
"Shri K.P. Thomas might have contributed to the development of these athletes at some beginners level before they advanced to an elite status under the proper coaching by Shri Bobby George or Shri Hargobind Singh or the coaching being imparted at the National camps. This aspect raises two critical questions. How many coaches can be given Dronacharya Award for the winning performance of one (same) individual athlete?" he asked.
"Should the award be given to the coaches or for that matter Physical Education Instructors at Schools who spot the talent and initiate athletes into respective sports but are unable to take them to next level of elite performance?" he added.
Randhawa also requested the Ministry to delay announcing the official list of awardees till the time Thomas's credentials are not verified.
"To maintain the sanctity of the Dronacharya Award, I would like to request you to look into this matter personally and get the authenticity of claimed achievements of Shri K.P. Thomas verified from Athletics Federation of India and till then the award may not be granted," he said.