Tokyo was awarded the 2020 summer Games on Saturday, beating Istanbul in a head-to-head vote after Prime Minister Shinzo Abe delivered a charismatic plea to the International Olympic Committee.
The statesman's slick narrative was aimed at allaying IOC concerns over the crippled Fukushima nuclear plant, and would appear to have been pitched perfectly as the Japanese won convincingly by 60 votes to Istanbul's 36.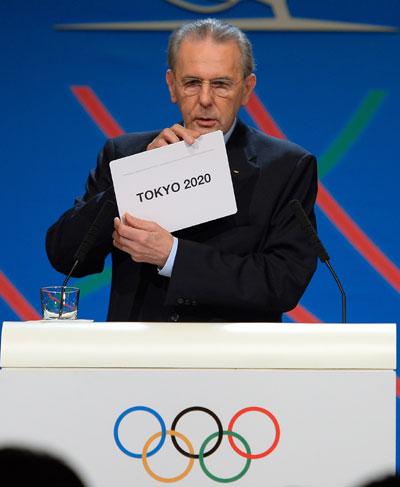 Tokyo won the right to stage the sporting extravaganza for the second time, having hosted in 1964 when the Games first went to Asia, after two years of intense lobbying and tens of millions of dollars spent.
"I would like to thank everyone in the Olympic movement and we will host wonderful Olympic Games," a clearly delighted Abe told Reuters.
Bid leader Tsunekazu Takeda said: "It is a great honour that Tokyo has been chosen.
"The first thing I will do when I return is to thank all of Japan," he told Reuters.
For Istanbul it was a fifth unsuccessful bid to host a summer Olympics.
"I think it is an election between a traditional candidature and new grounds, and today it was the traditional candidature that won," IOC vice-president and presidential candidate Thomas Bach told Reuters.
Madrid, which had pitched a safe, affordable, "sensible" bid had been earlier eliminated first in a secret vote by IOC members on a head to head with Istanbul after the two cities were tied in second place after the initial vote. Madrid's attempt to host 2020 had been a third consecutive bid.
The next summer Olympics will be hosted by Rio de Janeiro in 2016.
Disbelief in Madrid
Spaniards reacted with disbelief and disappointment on Saturday after Madrid was eliminated as a possible host of the 2020 summer Games in the opening round of voting by the International Olympic Committee (IOC).
The elimination comes as Spaniards are swallowing cuts in health and education and battling one of the worst unemployment rates in Europe of 26 percent. Many had hoped a winning bid would bring a welcome note of cheer to the city.
"Nobody expected this, we're in total shock," said Jennifer Pareja, a water polo player who competed for Spain in the 2012 Olympics in an interview broadcast from Buenos Aires where she had formed part of the Madrid delegation. "I'm lost for words."
Image: International Olympic Committee (IOC) President Jacques Rogge pulls out the name of the city of Tokyo elected to host the 2020 Summer Olympics during a session of the IOC in Buenos Aires, on September 7, 2013
Photo: Fabrice Coffrini /Pool/Getty Images